September 6, 2016
Lori Brakken, apple ID expert and landscape designer, volunteers tirelessly in her efforts to further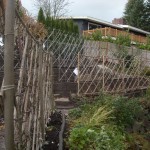 people's enjoyment of fruit. Last weekend, she graciously invited me to observe an apple ID session. Thinking that identifying apples would be an outdoor job, I donned my hat and sunglasses and paid her a visit.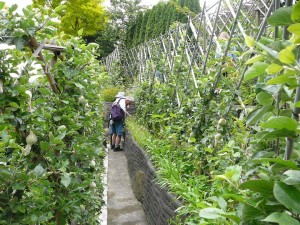 We did start the day in her small side yard where over 160 apple varieties are in espalier (see before and after photos), but only because it's the gateway to her indoor study.
Inside, she grinned and set out a chair for me right next to her computer and three well-worn reference books (listed below). She picked up a cross section of a piece of apple, looked at me, and made a proposition – "Red Astrachan".
I was not sure the name was the apple variety or the customer who brought the apple for her to ID. I nodded my head and listened until enough clues came my way to be able to conclude that, in fact, this Russian apple variety should be known by any appleholic. Still, how she leaped from just smelling and then looking at an orangish red apple to naming it a Red Astrachan I will never know but, that's why Lori is in high demand. We didn't even wade through the unique detailed online apple ID software program she developed; we just read in detail all of the descriptors (see quiz) from her old reference books in order to confirm the ID!
This past summer the National Park Service recruited Lori to visit an historic heritage orchard in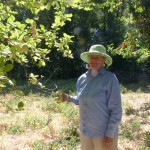 Whiskeytown, California (photo) where she took pictures of varieties from trees planted in the mid 1800s. Again, most of the work was done after she arrived home, looking through the books and matching the characteristics against her photos of the tops, bottoms, cross sections and longitudinal sections of the various apples.
If you want Lori to ID your apple, you too can get in line at one of the fall fruit shows listed below. I am warning you though; don't be that person who stands in line polishing your apple with your T-shirt. She will cringe. PLEASE don't handle the apple any more than you need to.
Also, here is your second warning. When you finally face Lori and wait patiently for her to slice and dice, smell, taste and measure and ponder … she may look up at you, and, when you lean in to hear the answer, it might be, "Can you bring some samples back next year so I can be sure?"
Take the quiz! Match the word to the definition
How to get your apple identified:
Bring 4-6 apples from the tree with the stems intact. Try not to handle too much and don't wash them. Tell her all you can about the apples: When do they ripen? How long do they keep? If you can have an idea how old the tree is, that helps. How tall is the tree? When does it flower? All these clues will help figure out what variety of apple you have.
Bring your apple to one of these events:
Piper's Orchard Festival of Fruit, Saturday, Sept. 24, 10-2, Carkeek Park, Seattle, WASeattle Tree Fruit Society monthly meeting, Saturday, Oct. 8, 10-12, The Brig at Magnuson Park, Seattle, WA
Finnriver Farm and Cidery, Sunday, Oct. 9, 10-6, Chimacum, WA
Vashon Island Fruit Club monthly meeting, Tuesday, Oct. 11, 6-8pm, Vashon Island, WA
Oregon Home Orchard Society All About Fruit Show, Sat (apple ID) and Sun Oct. 15 & 16th, 10-4, Canby, OR
Peninsula Fruit Club Fall Fruit Show, Saturday, Oct. 22, 10-4, Bremerton, WA
Favorite Reference Books of Lori Brakken:
'The Apples of New York' by Spencer Ambrose Beach
'Apples' by John Bultitude
'The Book of Apples' by Joan & Alison Richards Morgan
Ruth Callard
https://freewayestates.org/wp-content/uploads/2021/12/uglybee-logo-003-300x72.png
0
0
Ruth
https://freewayestates.org/wp-content/uploads/2021/12/uglybee-logo-003-300x72.png
Ruth
2016-09-06 12:33:15
2022-01-04 20:48:06
The Apple Sleuth