State of the Orchard Address
June 6, 2013
We had .4 inches of rain last week. We are now watering trees and shrubs. (Water courtesy of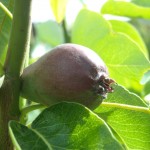 Mylinda.) Anyone can take a turn at watering. Let us know if you are interested.
The City is behind in mowing. They promise to mow the south half of the orchard very soon. (We are responsible for the north half.)
Orchard Announcements/Updates
Work Party this Sunday, June 9, 2-4pm. If you have them, please bring a grass whip, large garden fork, and/or a wheelbarrow.
We have $400 in general contributions so far. What a boost, especially since we under-budgeted some Department of Neighborhood (DON) Grant line items! (Soon we will have a non-cash donations section on the Donations page.)
DON Matching Grant Activity:
Hiring the designer – Justin and Pam should be interviewing three Landscape Architects in a couple of weeks. They have it all under control.
Marketing – Michelle has taken responsibility for graphics and logo work. Ruth needs help reviewing designs for post card invitations to public meetings. She also needs help with marketing material distribution, electronic and otherwise. We need volunteers to take shifts handing out Orchard brochures at the Bull Moose festival, July 27.
Event Management – Nancy needs help with the public meetings. We plan to have the first two at the orchard. Tentative dates are August 18 and September 28. She needs help with audio equipment, sprucing up the orchard before the meetings, chair and table rental, identifying meeting space for the third indoor meeting, greeting guests, organizing food, procuring door prizes, photography, putting up signs, and set up and take down.
Accounting – Joan is posting volunteer hours and expenses. Helpers can email hours to her or to the Orchard Gmail address. You can now also post hours on our website, on the volunteer page.
Miscellaneous – We also need someone to work on strategies for minimizing vandalism, sharing food, and we need to write-up an Orchard safety plan. Tell us if you are interested in any of these important tasks.
We have a commitment to post 403 volunteer hours toward Grant-related work. (General maintenance does not count.) If you can commit even an hour, it helps. Contact us by leaving a comment, or by emailing us at freewayestatescommunityorchard at gmail.com.
Consider becoming a 20-hour Club member. Take the opportunity to spend 20 hours of your time toward Grant activities and get a big surprise!.
https://freewayestates.org/wp-content/uploads/2021/12/uglybee-logo-003-300x72.png
0
0
Ruth
https://freewayestates.org/wp-content/uploads/2021/12/uglybee-logo-003-300x72.png
Ruth
2013-06-06 09:37:23
2022-01-04 20:48:08
State of the Orchard Address