Connect With Others
There is a clear and obvious connection when two new volunteers are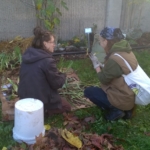 talking, while tasking, at the orchard. But helping out, as well as accepting help, is much more than crossing out a line item on the to-do list.
Greg Meyer had been to several work parties. He was taking a walk one day and noticed a shed for sale. He stopped and sent us a photo. Later that day, we knocked on the owner's door. We told him we were going to use it at a community garden. "How much do you want for the shed?," we asked.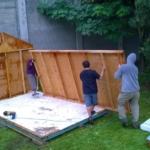 His response was quick, "Free. Plus, I will Sawzall it into six pieces for you." (It had a gable roof.) We smiled and lined up a truck from Handy Andy. Now, we pondered, who might help put it back together properly.
Joan was involved with FECO from the start and cared about the project. She wasn't the type of person to sit in her townhome with the shades closed. She met everyone. Her neighbor Sue Ellen had a son, Craig, who was a good builder. Craig had a family with two young kids but he found time for us. In half a day, he put the shed back together beautifully.
Craig made some other major contributions as well. And Greg made a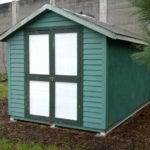 YouTube video of Ingela assembling the Cider Press. Joan is still watching over  us.
Several people connected and a valuable asset was garnered. But the most satisfying outcome was new learning, new relationships and gratitude for people with the awareness to think about the needs of others and the thoughtfulness to take time to help.
Connect People to the Land
People who live in urban Seattle don't need to travel outside the city to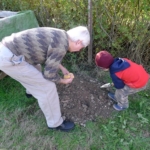 a farm or wilderness area to connect to the land. At FECO we strive to connect people right in their own neighborhood. Being among healthy, growing plants, whether working the rich soil, contemplating, or watching children run freely, can provide connection and appreciation for this valuable asset.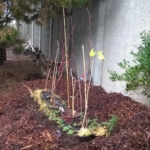 A visitor to the native plant area can see, smell, and feel plants that have thrived in the Puget Sound area since the end of the last ice age. These plants interact with native insects and birds to create a healthy community. As the native plants mature they become a source for new plants. Through involvement with the Washington State Native Plant Society (WNPS), we are learning propagation methods. Plants that we can pass along to extend native plants to other gardens in Seattle.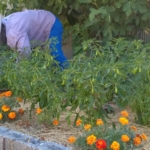 Growing food, eating food you've grown, and sharing food are some of the best ways we feel connected to the land. FECO provides opportunities for all of these activities. We encourage people of all ages to taste food they helped to grow, and we show respect for the food the land has provided. By sharing food we also connect, through our volunteers, to people who may not have access to fresh, organic produce.
Improve the Ecosystem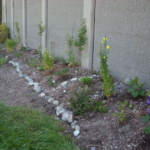 Our focus on pollinator habitat encouraged volunteers to choose plants that flower at various times over the years. We were partly influenced by Xerces Society. Our focus is on creating good habitat for native bees, small wasps, butterflies and hummingbirds.
To minimize external inputs and to maximize the importance of soil microbial diversity, we undertake a thermal compost process twice per year. A wide variety of materials, including one high nitrogen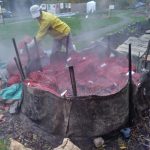 ingredient, causes the microbial activity to increase. High temperature, kept at a long enough time interval, eliminates pathogens. We also frequently look at the soil under a microscope for biological diversity. Samples of soil are also sent for a chemical testing. Plants are grown with organic methods and we minimize inputs; we have never fertilized the trees.
Focus on Conservation
More rain in the winter and less rain in the summer is our normal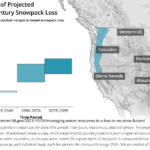 pattern in the Northwest and the differences were terrific in 2021. With the future predictions of less snowpack in the mountains, it makes sense for gardeners to save in the winter and spend in the summer.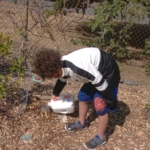 For several years, FECO has been employed several water conservation techniques, including, what we believe, is the only human-powered gravity-fed irrigation system in Washington State. We documented every minute detail of our extensive water conservation system and it is included a series of Water Conservation website pages.
Perhaps the greatest challenge for urban farms is to reduce the use of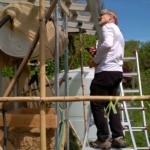 plastic. We use our share, due to our irrigation system. In consolation, we demonstrate many material recycling projects. Alert volunteers are constantly spotting materials, on the street or elsewhere. Also, Seattleites can hardly keep up with bamboo culling.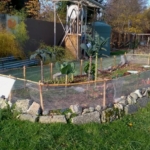 Keep a lookout for folks taking apart cedar fences, metal fencing or upgrading from old galvanized plumbing. Becky and Justin both have keen eyes for recycling potential. Much of the rubble we use for garden beds came from Becky's keen sightings. Torn up driveways are the best, as the pieces are less than four inches thick. Justin and Ken often spot useful wood, such as the wood we wanted for the vertical garden. Sue found all of the pieces of a marble counter-top and watering buckets are free for the asking at most burger places.
Learn, Lead and Celebrate
Kid and adults build trellises, use hand tools to repair fencing, practice their half-hitch knot, or employ the 3:4:5 triangle to build a garden bed. They pick cabbage moth eggs off Brassica plants, plant trees, and weed the herb garden. Sue answers everyone's questions about vegetables and herbs.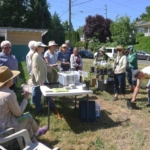 Opportunities to lead will expand as we move toward a committee-based decision making model. What a relief to know several volunteers can move through the work party set-up checklist and also clean tools and close up. A couple of volunteers have lead a class for the public for the first time. Often experts are invited, instructing on topics such as: invasive plants, using herbs in cooking, tree and vine pruning, edible plants, and thermal composting.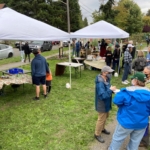 The Cider Fest is the signature event for FECO. Most of our volunteers are involved and over 100 friends and neighbors stroll in to meet someone new, play a game, and taste the exquisite cider. We often host the summer event, Night Out, plus an annual volunteer party, including an offering of homemade chestnut soup. One volunteer was married in the orchard and a tree was added in the native plant area as a memorial to a friend of the food bank.