August 15, 2016
This morning, FECO volunteer Sue Hartman hauled over 10 pounds of produce to the food bank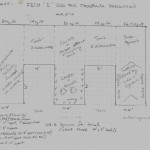 for the 13th time. Her walk is shorter now that the University Food Bank re-located to Roosevelt Ave N, just north of NE 50th St.
Thus far, FECO has contributed the following foods to the food bank: kale, chard, collards, lettuce, radish, broccoli, carrots, cucumbers, squash, tomatoes, onion, blueberries, and potatoes. Still to come: tomatillos and, hopefully, apples.
Sue knows her stuff. She works the Seattle Tilth Garden Hotline, coordinates the Tilth garden and teaches in the education program. Her own yard could easily be mistaken for a nursery!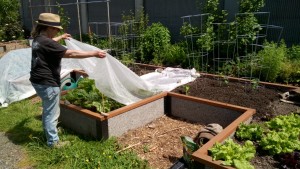 From design to harvest Sue manages the FECO food bank bed. As she toils away, she tells you the difference between a leaf roller and a leaf minor, whips up a climbing cage for the cukes that will shade the tender lettuce, and reminds you which fall crops should not be seeded until September. We are thankful for her level of experience and her willingness to share all that she knows.
Sat, Aug 20, 10-11, Intro Qi Gong
Sun, Aug 21, 10-12, Work Party
Sat, Aug 27, 10-11, Intro Qi Gong
Sat, Sep 3, 10-11, Intro Qi Gong
The grand opening celebration of the new University Food Bank (http://www.udistrictfoodbank.org/) is this Wednesday, August 17, from 6-8pm. The food bank and cafe are on the ground floor, there is low-income housing on the next several floors and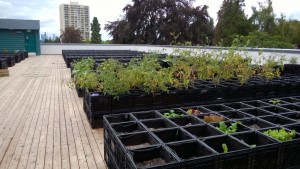 there is a rooftop garden with 2,000 milk crates full of vegetables. Don't miss this opportunity for a tour!
Hannah Duffany, Grocery Rescue/Farm Manager, says they especially appreciate donations of fruit and shelf stable vegetables like winter squash, garlic and onions.
Happy harvesting!
Ruth
https://freewayestates.org/wp-content/uploads/2021/12/uglybee-logo-003-300x72.png
0
0
Ruth
https://freewayestates.org/wp-content/uploads/2021/12/uglybee-logo-003-300x72.png
Ruth
2016-08-15 14:26:27
2022-01-04 20:48:07
Learning and Sharing