"It Feels Like No One Is Telling You What To Do"
August 21, 2013
A resident from Willis House (nearby senior housing) walked into the orchard Saturday. She strolled slowly and deliberately, gazing ahead, then to one side, then the other.
She told me she had Sunday music commitments and would not be able to attend the Sunday design input meeting. I took the opportunity to solicit design input and asked her what she thought.
"It feels free." She took a long pause between sentences. "You can use your imagination for how you want to use this space." I stood patiently. She turned her head toward me. "No one is telling you what to do."
In fact, the space currently is unstructured: long grass in places, green and brown colors except for a few flowers, no defined walking paths, and open site lines from south to north. Her observations are well taken.
Sunday's design meeting was a smashing success: quality design input from 38 people, exquisite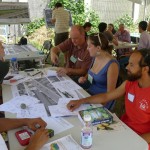 sandwiches, no injuries (except I smashed Max's finger during canopy setup) and only a small handful of garbage.
Sunday, Sept 8 Work Party August 10, 2-4 pm. 2-4pm – Weeding!
We also have nine new volunteers including a nurse willing to make a first aid kit, a jewelry designer offering product, a ukulele player ready to entertain, and a point person for ornamental plant procurement.
Children faces were smeared with Seed Ball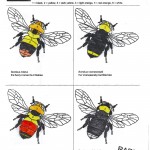 mud, berries and Mighty-O donuts. They also colored native bumble bees.
A truck from Channel 13 arrived midway through the cutting and pasting. The photographer was following the trail from the King-5 visit earlier in the week (article link).
Next step? On Saturday, September 28, 10:00am – noon, you can review three designs from our landscape architect team. Everyone is welcome and there is a special drawing for those who come to all three meetings! You can still provide input to the survey on the Get Involved Page.
https://freewayestates.org/wp-content/uploads/2021/12/uglybee-logo-003-300x72.png
0
0
Ruth
https://freewayestates.org/wp-content/uploads/2021/12/uglybee-logo-003-300x72.png
Ruth
2013-08-21 12:34:32
2022-01-04 20:48:08
"It Feels Like No One Is Telling You What To Do"