November 14, 2014
Jump on the sled and slide down an exciting path of learning, sharing, building and beautifying. We have entered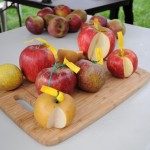 our construction phase! (View the final project design on the Library Page to see what's coming your way.)
We now have everything we need:
A lease from WSDOT, giving us a lot of freedom to take good care of this property.
A contract with the Department of Neighborhoods for a $43,000 infrastructure grant.
A wonderful group of supporters, committed to the dollar for dollar required match of $43,000!
Support will be cash and in-kind donations, volunteer hours, and donated professional services.
If you can lend even an hour of your time, you can join the effort. We need more than just physical labor. Below are items that need attention. Let us know if you can help.
Work with Dunn Lumber on a discount for lumber and other materials.
Check our math for the lumber dimensions needed for the shed roof.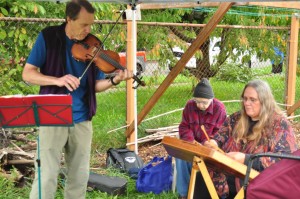 Scrape off grass where the rainwater cisterns will rest.
Keep you eye out for items we need – from Craig's list, buynothing, freecycle, etc.
Post our progress and events on social media.
Review our volunteer and neighbor safety procedures.
(Volunteers are covered for medical by the City of Seattle.)
Be an environmental cop and review our materials purchases.
Audit our processes and communications. Are we welcoming to all neighbors and volunteers?
Shop for prices on materials like geotech fabric and crushed rock.
Build small embankments for a couple of slopes along the path route.
Offer to coordinate food for volunteers at major work parties.
Reduce our tool rental cost by lending a gas-powered chainsaw, auger, sod-cutter, nail gun, cordless drill, standing ladder.
Allow us to put things in your garage temporarily while we work.
Work parties are 1st Saturday and 3rd Sunday of each month.
Buy gifts for donors and volunteers.
Write thank-you cards.
Supply us with brick, concrete block, concrete rubble (less 4″ thick), and pavers.
(Please don't dump materials without first making contact to make sure we need them!)
Post volunteer time to the City Webgrants website.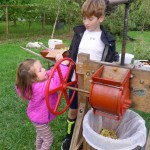 Perform a weekly functionality check of our website.
Meet a delivery vehicle at the orchard during the day.
Coordinate tool and equipment rental with a supplier.
Measure and lay out flexible piping for water distribution.
Install spigots.
Lend a hand with regular orchard maintenance during construction.
Find a group of volunteers from a workplace, church or United Way for major work parties.
Write one of the monthly blog posts.
Make necessary signs during construction.
Consider joining the steering committee or the advisory committee!
Advise us on sources for plants and buy for us at plant sales.
Items and skills needed will be listed on the Get Involved page of our website. If you can help, you can email us or send a message directly from that page.
We appreciate your willingness to make the most of our proximity to the freeway!
A mighty congratulations to all of the volunteers, especially Ingela, for pulling off a great Cider Fest last month. We have two new volunteers! Check out the wonderful U-Tube video made by Greg M.
Ruth
https://freewayestates.org/wp-content/uploads/2021/12/uglybee-logo-003-300x72.png
0
0
Ruth
https://freewayestates.org/wp-content/uploads/2021/12/uglybee-logo-003-300x72.png
Ruth
2014-11-14 19:23:14
2022-01-04 20:48:07
Ready To Plow Ahead