The Perfect Fruit Tree Owner
August 29, 2019
McIntosh. My favorite.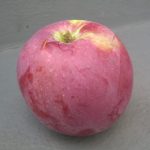 Most will say you can't grow a Mac here. Well, there is at least one tree in the Seattle area. Lori Brakken, apple sleuth, drives around and slams on the brakes when she spots any apple tree. She saw a Mac in the Seattle area and called me up. I visited the tree last winter and got permission from Kathy, the tree owner, to take some scion wood. (Allison and I made two grafts this spring and they both are doing well!)
Per the orangepippen website,  this apple was discovered by a John McIntosh, a farmer in Ontario in the early 19th century. The McIntosh was suited to the cold climate of the area as it achieves its best flavor in colder apple-growing regions.
Sat, Aug 31, 10-11, Qi Gong
Sat, Sep 7, 10-12, Work Party
Sun, Sep 15, 2-4, Work Party
Sat, Oct 5, 10-12, Work Party
Sat, Oct 12, 2-5, Cider Fest

"The McIntosh style is typified by attractive dark red or (more often) crimson colors, and a crunchy bite, often with bright white flesh. The flavor is simple and direct, generally sweet but with refreshing acidity, and usually a hint of wine – often referred to as vinous".
Kathy was anxious for us to return this summer for pruning and to give her a yearly management plan. Her tree has apple scab so she has been instructed to pick up all the apples and leaves. (Venturia inaequalis resides in the litter.)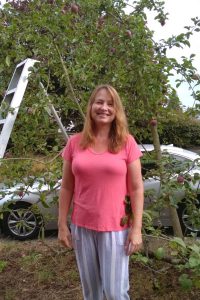 Kathy is the perfect fruit tree owner. She cares about the tree,  is eager to learn how best to care for it and allows us to glean much of the fruit for the food bank.
"I'm in the arts", Kathy announced. "I am not fruit tree expert. I was given an assignment in a training to draw part of a tree, once each month for three months. I chose this apple tree. Noting the details and the changes really woke me up to nature."
Structural pruning is usually done in the winter but we "took a bit off the top and the sides". Kathy wanted pruning on the street side so auto owners would stop breaking the branches. She also wanted a walkway between the tree and a nearby bush. Pruning has to consider all of the various goals.
Allison is tall and she managed the long-handled pruners. She ate as many apples as she could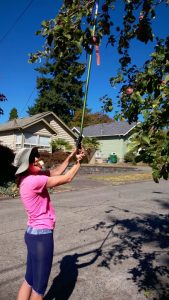 while pruning. In the end, Kathy was satisfied. "The tree looks good, like it did in years past!"
Below is a comment by Bruce, from the orangepipen website:
I grew up in central Pennsylvania and with the scent of McIntosh apple pie and apple dumplings, next door, in my aunt Eleanor's kitchen. The stand-out attribute of this variety in my mind is the distinctive aroma. Quite unlike any other. The fruit, also unlike any other, is extremely delicate; that's why I think most grocers avoid stocking them (the phrase I've heard them called is "smash and toss" apples) They bruise easily then rapidly mush and rot. They are like a beautiful sunset. Awesome and short lived. I'm attempting (with limited success) to grow them here in Western Washington, difficult because it doesn't get cold enough in the winter. I will continue the effort because these are the best apples EVER !
Ruth
https://freewayestates.org/wp-content/uploads/2021/12/uglybee-logo-003-300x72.png
0
0
Ruth
https://freewayestates.org/wp-content/uploads/2021/12/uglybee-logo-003-300x72.png
Ruth
2019-08-30 12:08:52
2022-01-04 20:48:05
The Perfect Fruit Tree Owner