May 22, 2016
Hi!
My name's Lydia and I'm a nursing student at UW and one of your neighbors. I had an assignment for my community health class. The instructions were to take 2 photos from my community that answered the following questions:
What is one asset of your community?
What is the most significant need in your community?
Since I used the community orchard as one of the photos, I thought I'd share my project. I'm in an accelerated program and have time for almost nothing outside of school, so I haven't yet made it to any of the work parties, but every day when I pass this space, I am filled with joy and gratitude. Thanks for all you do to make our community stronger!
If you feel inclined, you are more than welcome to share this with anyone 🙂
Cheers,
Lydia
I pass an area on my walk home from school every day. Off of I-5, on the corner of N. 50th Street in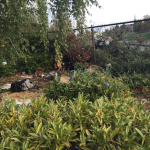 the Green Lake/Wallingford neighborhood of Seattle, this image is not unique. Cans, cardboard, and an assortment of garbage are heaped in piles along many areas of the Interstate. What this image depicts is unsightly and unsanitary, but what you don't see here is that this is the home of several residents of my community.
Since I moved to my neighborhood six months ago, I have witnessed the ongoing development of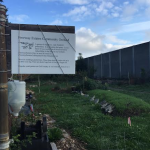 this community orchard as I pass by it on the way to my bus stop every morning.  It is located off I-5 in Seattle's Green Lake neighborhood at NE 60th Street. To me, this project epitomizes how the assets of my community can be directed toward sustainability, neighborhood partnership, and food and agriculture education. It is a powerful response to the community need depicted above. A sign off to the right of this photo boasts, "ANYONE CAN HELP." Though projects like this may displace members of the community who reside along the Interstate, it does offer them a place to access free food directly from the land, as well as an opportunity to get involved.
Sun, Jun 19, 10-12, Work Party
Sun, Jul 17, 10-12, Work Party
Tues, Aug 2, Night Out-Potluck
Sun, Aug 21, 10-12, Work Party
Thank you Lydia! Many people have taken time to stop by and share their appreciation of the orchard. Here are just a few comments:
After a wedding at FECO, a neighbor observed, "Wasn't that cute! We are fortunate to have something like this happen in our neighborhood."
Last week, a man from Colville stopped by. He said, "I visit relatives nearby annually. I have walked to this space for several years and it looks better each time I visit."
With all this appreciation coming our way, it's high time to appreciate the people who put a lot into this project in the last year — the 20-Hour Club. Each volunteered 20 or more hours in the last 12 months.
The Club celebrated in January and I asked, 1) what inspired each of them to work on this project and 2) what would make it a better space for the community.
Some of their responses follow.
"I learned that there are European pears that I really like (Harrow Delight). I think a couple of places to sit would make the orchard more valuable."
"I learned a lot from the class on microbes. I loved watching Liz work so hard on the herb spiral. I watched her go back and forth, back and forth and, well, work so hard. "
"The shed move exemplified a lot of things that people are speaking about today. All kinds of people came and saw things they could do and they did them. It was a success. It was natural and fluid. People are diverse in their talents and there was a lot of teamwork."
"I learned how to do a path and was amazed that we moved 40 cubic yards of gravel in a day. We need to get more people to know where the orchard is."
"I learned the names of plants, both from the invasive plant class and from other volunteers."
"I learned about Hugelkultur".
"I am a technocrat, and I loved working with Ken to level the pavers. I think we should add a library box and benches."
"The orchard was very much a sense of place for me because I moved five times in a bit over a year. I appreciated the opportunity to organize a class that we offered to the public. I think we need more art in the orchard. Maybe we can invite artists to come as an event."
"I learn new words, like 'urbanite'. You can grow with the garden. I liked using the cider press, the same piece of equipment that was used 100 years ago."
"I like trying new drainage ideas so I will watch what happens under the herb spiral (where logs were buried). We can partner more with other food-related groups. We have Qigong but it would be good to add yoga and a drum circle!"
Many in this 20-Hour Club brought in friends and family to help out last year. In all, we could not have accomplished what we did without the 100+ other volunteers, including the students from Kids Co. and Hazel Wolf school.
Thank you all. It's been wonderful to meet so many people who just enjoy helping out.
(Note that our Acknowledgements Page lists nearby businesses that helped in some way.)
Ruth
https://freewayestates.org/wp-content/uploads/2021/12/uglybee-logo-003-300x72.png
0
0
Ruth
https://freewayestates.org/wp-content/uploads/2021/12/uglybee-logo-003-300x72.png
Ruth
2016-05-22 18:44:42
2022-01-04 20:48:07
The FECO Community