December 18, 2014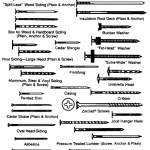 "NUMBER 73!"
That's me.
I plop down on a swivel stool at

, across the counter from Byron, one of Dunn's helpful project managers.
This is the third time we meet to make changes to the material's quote for the shed remodel. How patient he is. We are nearing the end of my long educational journey into materials selection.
I look at my notes, and then at Byron. "Says on a website we need spitless thin shanked nails for the cedar siding." I lower my eyebrows, a questioning look on my face.
Byron lowers his eyebrows and reflects back a questioning look. He repeats my phrase. "Spitless thin shanked nails. Huh." I add that the website says the nail head is more like a finish nail.
Sun, Dec 21, 2-4, Dismantle shed roof, shed move
Come at 1:00pm if you have time
Sat, Jan 3, 2-4, Work Party
Sun, Jan 18, 2-4, Work Party
Sat, Feb 7, 10-11:30, Pruning Class
Sat, Feb 7, 1-4, Shed roof build
Here I am, knowledgeable enough to be dangerous, after reading a dozen websites, a couple of primers on carpentry and speaking to three professionals in the building trades.
I follow Byron's lead to a nail isle. He shows me a nail with a smaller head. "Here you are", he says, "galvanized shank split-less nails.
We walk back to our respective stools and I look at my notes again. "Says on a website that galvanized fasteners react to cedar and make a stain." I lower my eyebrows, a questioning look on my face.
Byron lowers his eyebrows and reflects back a questioning look. He replies, "Says so? Huh."
Nails for every occasion indeed!
There are sinker nails with a rough face so you don't smash your finger when glancing at your cell phone. A penny nail actually costs less than a penny and a threepennynail is 3″ long. In another dialect, "10d" also tells you the length of the nail is 3″ but that still does not tell you the diameter of the nail. A box nail could be 10d but is thinner than a common nail, so as not to split the wood.
A Bright nail does not glow in the dark; it means it doesn't have a finish. Don't use it outdoors. A HurriQuake nail has high withdrawal resistance with rings near the shank end, angular barbs included!
More resistance, however, means the nail is harder to pound. Some contractors used to pour hot wax over the nails so they could get home early enough to watch the football game.
After two hours, we are finally finished with the quote.
FECO hereby sends a big appreciation to Byron and Dunn Lumber for their very generous discount on our needed materials.
Now, first thinks first! This Sunday, December 21, 2-4 pm, we will be taking off the existing shed roof
and then moving the shed four feet. We need your help. If you are one who pulls out the refrigerator for cleaning, and who yanks out blackberry until it snaps and you fall back on your butt, then we need you.
If you are pressed for time and you live close by, we can call or text your cell phone when we are ready for the big push. Please email us and let us know if you can come out this Sunday. If you can do more, join a couple of us who will start dismantling the roof at 1:00 pm.
Ruth
https://freewayestates.org/wp-content/uploads/2021/12/uglybee-logo-003-300x72.png
0
0
Ruth
https://freewayestates.org/wp-content/uploads/2021/12/uglybee-logo-003-300x72.png
Ruth
2014-12-18 12:50:16
2022-01-04 20:48:07
A Nail For All Seasons