CIDER FEST – Celebrate the Harvest Season
October 15, 2014
We accomplished so much but let's focus on the harvest! Apples, pears, honeyberries, raspberries, strawberries and blueberries took center stage.
By the end of April all fruit trees, but for the William's Pride, had flowered nicely. The Willam's Pride was the only tree to offer fruit last year and it has slight biennial properties.
At the June 15 work party, the crew culled the apples to one every six inches and to one per cluster. (One volunteer agonized over cutting out fruit, but accepted the practice as good for the trees and the fruit.) After the culling, our beginning inventory was:
Pear-                                        Apple-
Rescue-1                                 Liberty-59
Highland-0                               William's Pride-59
Orcas-2                                    Honeycrisp-16
Harrow's Delight-3                    Northern Spy-21
Early Fuji-11
Oh, Fuscum! The four-way pear has a bad case of pear trellis rust and ours is not the only case in town. The fungus is hard to beat due to the juniper trees in the neighborhood (the alternate host of gymnosporangium fuscum). http://pep.wsu.edu/hortsense/scripts/query/displayProblem.asp?tableName=plant&problemID=802. Nevertheless, in August we gleaned two Orcas, one Rescue and two lovely small sweet Harrow's Delight.
Oh, Rats! Something bit the Liberty apples and broke branches. I asked for confessions but no one came forth. Hence, we enforced the Tanglefoot treatment. Yes, rats can jump, but we calculated that they would not want to climb down a trunk of the sticky, gooey mess.
On August 24, we picked up the first drop, a Liberty. On that date, there were 59 Liberty, 20 Northern Spy, 14 Honeycrisp, and 8 Early Fuji. The two William's Pride had been picked but I salvaged one from behind the fence. It was mighty big and good and it weighed in at 13.5 ounces.
After the William's Pride came the Honeycrisp, changing color dramatically toward a streaked red. On August 22, I picked one and let it sit five days. Hmm, delicious. One of the largest, it weighed in at 14.5 ounces.
Oh, furry flying beasts! Coddling moth damage was apparent on almost all of the apples. Luckily, the apples are still perfectly edible. Perhaps we will test out nylon footies next year, to discourage the moth from laying her eggs. No sign of maggot fly or scab! (Did you know that the worm can munch away on an apple even when it's in the refrigerator?)
During September, we played the 'when are apples ripe' game. We tested the drops as well at apples picked. Some were put in bags in the basement, some in the refrigerator and some on the counter. Dates were noted when they dropped, when they were picked, how many days they sat, either in the refrigerator or on the counter, and when they were eaten. Some were shuffled off to volunteers for opinions. In the end, it was terribly confusing but we are learning when our apples are ready to pick for short-term storage.
The Liberty was prime mid-September. The Early Fuji was likewise mature. Work party volunteers reported the fruit was scrumptious with cheddar cheese.
Today, there is still one Northern Spy on the tree. The biggest one picked was 15.5 ounces and it will make it into a donated apple pie this Saturday at the Cider Fest!
Sat, Oct 18, 2-5pm, Cider Fest!
Bring your neighbors.
Sun, Oct 19, 2-4pm, Work Party
Sheet mulch and shed planning.
Sat, Nov 1, 2-4pm, Work Party
The Maraval chestnut had a setback from sitting in a bath for three weeks this past spring; the tree was an eyesore by June. Based on advice from Bernie at Washington Chestnut Co., we cut it back severely.
The hardy kiwi needs about five years to bear fruit. And, just to slow the process down at bit, the leaves turned yellow this summer. They did perk back up after we added nitrogen. Onward and upward.
Orchard work seems a lot like soccer … a game of mistakes. However, we are learning and many thanks to our wonderful mentor and master pruner, Ingela Wanerstrand. Hurrah also to the 40 volunteers who have given over 1,200 hours so far this year!
Ruth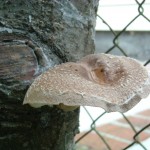 Time to be paying attention to those Shitake logs! This is my first mushroom from the FECO log inoculation last fall. It's nearly convex so it's past its prime. Still, we devoured it.
I was less than diligent about watering this summer but I would often douse them with laundry water. Mid-September, I soaked the logs for 24 hours to stimulate the fruiting: 12 hours in the garbage can, then upside down for another 12 hours. Nine days later, voilá!
https://freewayestates.org/wp-content/uploads/2021/12/uglybee-logo-003-300x72.png
0
0
Ruth
https://freewayestates.org/wp-content/uploads/2021/12/uglybee-logo-003-300x72.png
Ruth
2014-10-15 10:21:57
2022-01-04 20:48:07
CIDER FEST – Celebrate the Harvest Season