November 5, 2013
It's election day and we are voting for Bob (click on photo at right). On the day of our recent Cider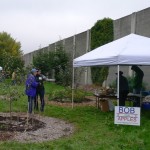 Fest, the 'political office' of apples included pears. Pears have a higher water content than apples, (http://news.bbc.co.uk/2/hi/sci/tech/7501420.stm). As such, during the Bob for Apples event, the pears were sitting at the bottom of the water tank. As you can imagine, one would have to dunk one's whole head in the water tank to yield a pear.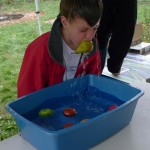 You might wonder why this boy went for the pear instead of an apple? It was chilly that day and he is soaked from the neck up. The reward was no greater, just seven people standing around clapping and cheering. I conclude that some people just go above and beyond.
Speaking of people who go above and beyond, how about our volunteers! This past Thursday, seven volunteers carted 180 oak logs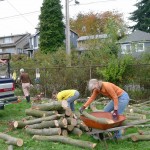 into two trucks, brought them to the orchard, unloaded them and then pushed them to the end of the orchard in wheel barrows where they stacked them up under the willow tree. It took 500 squats to lift 7,200 pounds, all to prepare for our November 17th grand event – The Community Mushroom Inoculation Event.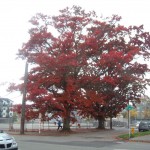 Sound Transit offered us logs from the twin 60-year-old Scarlet Oaks for this community event. The grand trees stood stately on 12th Ave NE but had to be felled to make room for the future light rail station.
Freeway Estates Community Orchard (FECO) volunteers decided that we could facilitate a community event, celebrate the trees, and provide additional urban food education, via mushroom growing, for both adults and youngsters.
Sun, Nov 10, 2-4pm, Work Party
Plant Species Tulips. Bring leaves.
Fri, Nov 15, 7-9pm, Final Design Review Meeting at the Hearthstone. The best door prizes yet!
Sun, Nov 17, 1-4pm, Mushroom Inoculation Event
Rain or shine. Spawn on the lawn.
We will ask for a moderate cash donation to recover our costs. The amount will vary depending on which option you choose:
1) pick up a log and take it home (you might already have spawn),
2) do your own inoculation on-site (we have the materials), or
3) have a mushroom coach inoculate a log for you (the full service option).
As a bonus, Milton Tam, from the Puget Sound Mycological Society (PSMS) (http://www.psms.org/index.php) will bring 25 educational oyster mushroom growing kits for kids to assemble. These will be free but on a first come, first serve basis.
Please bring a cordless drill, a 12mm drill bit, toothbrush and gloves.
Come at 1:00pm if you have a coupon from the Roosie (the RNA newsletter http://rooseveltseattle.org/ ). Otherwise, all others are welcome at 2:00pm. We will have canopies, in case it rains.
Ruth
https://freewayestates.org/wp-content/uploads/2021/12/uglybee-logo-003-300x72.png
0
0
Ruth
https://freewayestates.org/wp-content/uploads/2021/12/uglybee-logo-003-300x72.png
Ruth
2013-11-05 07:06:33
2022-01-04 20:48:07
Bob for Apples