January 31, 2017
Eleven thoughtful volunteers met this month to sketch out a vision for the coming year. The Cider Fest will be our key event, we will add a few more fruit trees and bushes and the food bank bed is expanding. (Note Sue's gorgeous December lettuce, photo taken just after three periods of below freezing temperatures!)
There is plenty of work just to maintain what we already have in place so we curbed some dreams to be respectful of our existing resources. In addition to our regular workers, If we can entice everyone who volunteered within the last couple of years to come to just one work party in 2017, we should be able to keep the orchard looking lovely. Several volunteers are committed to volunteer recruitment, including a summer work party posting to Seattle Works.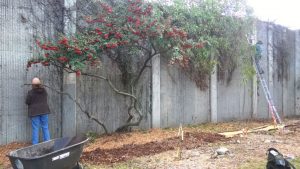 You will see more elderberry and fig trees this year and you will see less English Ivy. Nora, Liz and Ellen are driven to ivy removal and, by the end of this year, the native plant area should be appropriately named!
Also, we are hiring. Please see our Library page for three documents that relate to this position.
We are looking for a fruit tree specialist to review our orchard management plan, make plan recommendations, visit the site monthly to make plant and soil observations and ensure the management plan is being followed by volunteers. City Fruit has graciously offered to help us with the interview process and this position is posted on their website.
We are estimating that the job will take 20 hours minimum, spread out over the course of 2017, and we are willing to pay $15-$30 per hour, depending on the candidates qualifications.
We need more than one volunteer who is committed to learning all that he or she can about the care of fruit trees. In order to continue high standards for tree care and to continue to offer educational events related to urban agriculture, we hope to find someone who wants to practice their management skills with fruit and nut trees. This internship offer is our part to increase the pool of qualified orchard stewards in the Puget Sound area.
Sat, Feb 18, 1-3, Pruning Class
Sun, Feb 19, 2-4, Work Party
Sun, Mar 19, 2-4, Work Party
Kudos to all for 2016 improvements above and beyond maintenance:
•    Revised orchard walking tour flyer
•    Productive Food Bank bed, plus
•    Four new successful gardens
•    Native plant area development: 4 new plants plus non-native plant purge
•    New rolling drawer under table in shed
•    Bountiful harvest from all beds and fruit and nut trees and berries
•    New outdoor bench
•    Newly planted persimmon, pear and mulberry trees
•    Milkweed installation as part of the Endangered Species Coalition effort to provide food for Monarch butterflies
•    Events! Successful pruning class, Night Out and Cider Fest
•    Productive work with Hazel Wolf students and Kids Co students
•    Hosted CityFruit bike tour
•    Beautiful new artistic paver pathway to herb spiral
•    New volunteers and new gardeners, Ryan and, soon Michael, Stuart and Mitch
•    Regular City lawn mowing
•    Grape trellis installation and wiring added
•    Regular monthly blogs
•    Development of orchard management plan
Ruth
https://freewayestates.org/wp-content/uploads/2021/12/uglybee-logo-003-300x72.png
0
0
Ruth
https://freewayestates.org/wp-content/uploads/2021/12/uglybee-logo-003-300x72.png
Ruth
2017-01-31 16:27:47
2022-01-04 20:48:06
Planning for 2017