Tried-and-True Tomato Trellising Technique
June 23, 2021
The Florida weave! Is it a type of shawl? A new hair style? Some kind of line dance? No. The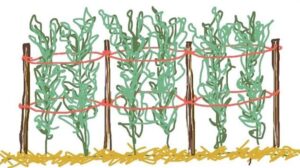 Florida weave is used widely and is well thought of as a tomato-trellising technique. Rutgers has a fine explanation online.
Sue's tomato plants get big and weigh a ton. In the past few years, we have used bamboo and added several extra supports so the mass from 16 vines doesn't topple over and kill someone.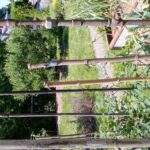 This year she is trying out the Florida weave, on recycled galvanized pipe. Nancy found a few pieces of seven-foot pipe but we just couldn't come up with the 10 more pieces needed. Then Ruth decided to donate the plumbing pipes from her home. (Well, that old galvanized had to come out sometime.)
Sue says, "The Weave will be easier to use for me, a near-to-five-foot gardener. Once the poles are in, the twinning work will be easier. I will add another horizontal weave with every ten inches of plant growth."
We need you!
Please email us if you want to
volunteer at FECOfreewayestatescommunityorchard@gmail
check calendar for regular work parties
Sue is training to just one central leader this year. She hopes for good air circulation and this system will make her keep up with her fastidious thinning and pruning. She's hoping for less bulk but more productive flowering.
This year's indeterminate cherry tomato varieties are: Jasper, AAS award-winning, Cherry Bomb and a few Sun Peach – all late-blight resistant.
"We always have green tomatoes left on the plants because we have a short season in western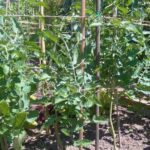 Washington. I like to take them home and ripen them up. If they rot, instead of ripen, I know that variety could get late-blight and I tend to stay away from it."
Next season, Sue will plant tomatoes in a different bed. She will have the poles ready to pound in, without having to make a new trellis out of bamboo.
This new method fosters recycling, will be labor-saving, and is portable. The proof, of course, will be in the tomatoes!
Ruth
https://freewayestates.org/wp-content/uploads/2021/12/uglybee-logo-003-300x72.png
0
0
Ruth
https://freewayestates.org/wp-content/uploads/2021/12/uglybee-logo-003-300x72.png
Ruth
2021-06-23 19:50:03
2022-01-04 20:48:05
Tried-and-True Tomato Trellising Technique