July 25, 2021
Last week Ann saw a T-shirt with printed words, "I'm pretty sure I am not going to figure it out."  Sounds like me and pruning!
I have been watching Ingela masterfully craft the orchard fruit trees for 10 years but, this week, it was I who grasped the pole pruner and reverently approached the William's Pride apple tree.
Volunteer Party
Mon Aug 9, 5:30-7:30
Please email us if you want to volunteer
freewayestatescommunityorchard@gmail
I am grateful for my education from all of the pruning class instructors, pruning book authors and WSU extension pruning experts. However, most of the notes in my notebook are from Ingela. I hope she doesn't choke if she reads this blog post.
A fe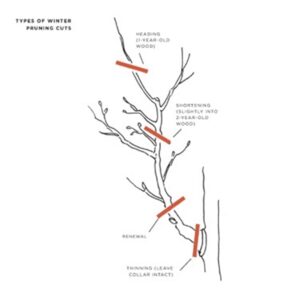 w rules for pruning fools that I applied this past week:
Apical dominance has critical significance. Each branch is wired to send some growth skyward. Leave some of those antennas on the tree, especially on a vigorous tree. https://www.frontiersin.org/articles/10.3389/fpls.2017.01874/full
It's seducing to practice reducing. Heading a branch back to a lateral, one at least one third to one half the size of the headed branch, opens up space and allows growth energy to be redirected. https://content.ces.ncsu.edu/general-pruning-techniques
Heading is a mode where you cut near a node. The result is a stub and you often can flub. The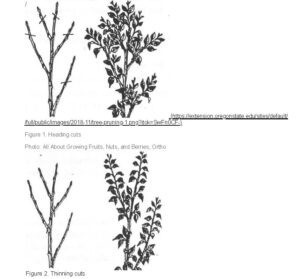 resulting new growth can push out in all directions, making next year's pruning challenging. Buds become stimulated for shoot growth, rather than flower (fruit) production.
Thinning is winning. Complete removal of a branch, just to the edge of the collar of the supporting branch or trunk, creates space and air flow. Thinning can also remedy twisting and/or over-loading a branch, causing it to break.
West of the Cascade Mounts, it's air flow that counts. All pathogens fungal can really keep us humble. The late professor Bob Norton said it best, "Make sure you can throw a softball through the apple tree!"
Local classes on fruit tree pruning: Plant Amnesty, Sky Nursery, Seattle Tree Fruit Society, City Fruit, Lee Harrison-Smith, Seattle Tilth, and the UW Botanical Center
Ruth
Good tree fruit pruning articles:
The 1-2-3 rule of pruning – Turn wood into fruit on apple and pear trees.
Bas Van Den Ende
Good Fruit Grower. January 15th 2010 Issue
https://www.goodfruit.com/the-1-2-3-rule-of-pruning/
Spur pruning 'delicious' apple for improved spur quality and yield
Curt R. Rom, ActaHortic.1992.322.6
https://www.ishs.org/ishs-article/322_6
https://freewayestates.org/wp-content/uploads/2021/12/uglybee-logo-003-300x72.png
0
0
Ruth
https://freewayestates.org/wp-content/uploads/2021/12/uglybee-logo-003-300x72.png
Ruth
2021-07-25 19:01:22
2022-01-04 20:48:05
Pruning Points