May 19, 2021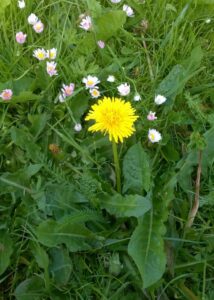 Dandelion – Taraxacum officinale – origin from Greek words meaning 'disorder remedy' – Asteraceae family.
How did we ever come to hate dandelions? Well, who knows. In any case, Europeans thought them valuable enough to tote them to the New World in the 1600's. In ancient times, the plant was valued as a diuretic and liver tonic.
When the soil temperature hits 50 F (that was April 15 at the orchard) the dandelion is triggered to make flower heads … and then away they go! The orchard becomes a sea of dandes, busy doing their fine work – prying open the heavy soil with their deep root.
Thermal compost class
Sat May 22, 10-12
hands-on! RSVP
Please email us if you want to volunteer at FECOfreewayestatescommunityorchard@gmail
Some weeders can't resist pulling dandelion plants. That's fine, as long as the plant gets recycled: either tossed back on top of the soil, or pitched on the compost drying rack. We think of them as Class A compost plants – plants that we would compost in any manner – directly on the soil, in a static compost or in a thermal compost. Class B compost plants are those that we would only put through a thermal compost, so the high heat can kill unwanted seeds. Class C weeds belong in the yard waste – bindweed, Himalayan blackberry, etc. They would also be devastated by the thermal process but why take a chance when we have so many other wonderful plants to compost.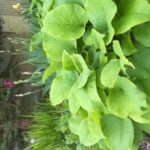 This week at the orchard, we are scooping up the dandelion leaves, along with two great mulch plants: early-flowering borage (Trachystemon orientalis) and common comfrey (Symphytum officinale). Plants that produce a large volume of material above ground are good mulch plants.
This fresh 'green manure' will have a carbon to nitrogen ratio of about 20 and will help produce heat in the upcoming compost pile.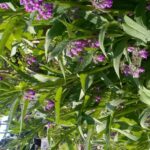 Feverishly pulling the dandelion plants for a thermal compost isn't the best use for our dandes. There are other uses with more substantial benefits: medicine, wine, tea, salads, antioxidants, seeds for birds, mosquito repellent, and nectar for bees. At FECO, they are a preferred food of the menacing Eastern Cottontail rabbit. All parts of the plant are edible and the USDA ranks them higher than spinach or broccoli in nutrition!
Well, are you starting to like these sensational plants better?
Ruth
References:
More about the dandelion:
http://www.columbia.edu/itc/cerc/danoff-burg/invasion_bio/inv_spp_summ/Taraxum_officinale.htm
Nutrition of dandelion:
https://fdc.nal.usda.gov/fdc-app.html#/food-details/169226/nutrients
Nutrient content spreadsheet:
https://cdn.shopify.com/s/files/1/0248/9641/files/Dynamic_Accumulators_and_Nutrient_Contents.xlsx?723
The dandelion society:
http://webhome.auburn.edu/~lechnnm/dandelion/
Dr Duke's Phytochemical and Ethnobotanical Databases
https://phytochem.nal.usda.gov/phytochem/help/index
Soil temperature by county:
http://weather.wsu.edu/?p=89750
https://freewayestates.org/wp-content/uploads/2021/12/uglybee-logo-003-300x72.png
0
0
Ruth
https://freewayestates.org/wp-content/uploads/2021/12/uglybee-logo-003-300x72.png
Ruth
2021-05-19 08:07:36
2022-01-04 20:48:05
The Handy Dande