April 16, 2019
I am a tomato addict. One of my favorite memories is arriving in rural southwest Ohio at 6 am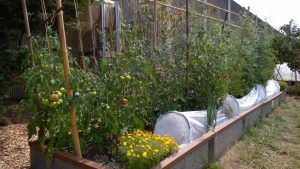 after driving straight through from the west coast. We stopped for breakfast at a coffee shop and were served a plate of eggs and fresh picked tomatoes, grown by the owner in his back yard. It's nearly impossible to find that level of deliciousness in grocery stores, where tomatoes are bred for color rather than flavor. (To find out why this happened check out Flavor Is Price of Scarlet Hue of Tomatoes, Study Finds, New York Times, 2012.)
I love tomatoes that taste good, which is why I like to grow them. I've been growing as many as I can for a few years now and learned a few things along the way. There are numerous articles on how to grow tomatoes but it seems that few ever read these. This may be due to the terminology. The minute I ask someone if they are growing Determinant or Indeterminant tomatoes, their eyes gloss over and they start looking for a quick escape. Knowing these basics can result in a less frustrating and possibly cheaper tomato crop. Vegetable starts are already showing up at nurseries and plant sales are right around the corner so – know what you want BEFORE you shop!
Sun Apr 21, 2-4, Work Party
(deviled egg hunt)
Sat May 4, 10-12, Work Party
Sun May 19, 2-4, Work Party

DETERMINANT tomatoes grow like small shrubs or bushes. If you are growing in containers and don't have huge tomato cages, or aren't into constructing large trellises, these are the plants to look for. They stay more compact and produce a limited (determinant) number of flowers. The fruit ripens over a few weeks and then they are done. DON'T PRUNE THESE BABIES (except for low foliage that touches the soil) or you will lose some of the fruit. Look for varieties that ripen in 80 days or less.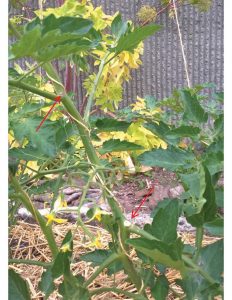 INTERDETERMINANT tomatoes are vines that keep growing and producing flowers and fruit until the first frost or disease hits. If you do nothing, they will become a tangled mess, so be ready to trellis. Not everyone believes in pruning tomatoes, but I prefer to prune them to 2 or 3 main stems that are trained to grow up a trellis and I remove the suckers at least during the first month after they get planted in the ground. "Suckers" are new vines that start to grow from the point where the leaf meets the main stem. Some varieties are not as vigorous, so less pruning may result in more fruit.
SEMI-DETERMINANT. These tomatoes are bushier than indeterminants but will keep producing for a longer time than determinant plants will. Pruning may not be necessary at all unless you want to promote good airflow by removing some of first suckers that appear low on the plant. They are often more compact and make good choices for containers.
Volunteer tomato-growing enthusiasts:
If you like to grow lots of tomatoes (like I do!) and have the space and lots of sun, indeterminant tomatoes are the way to go. But for those of us who have a sunny porch with space for a container or two, tomato breeders are working on developing better tasting compact varieties. Volunteer tomato growing enthusiasts have developed at least 40 new varieties for The Dwarf Tomato Project and are working with 3 seed companies to release them to the public. Urban tomato growers rejoice!
Tomatoes aren't that hard to grow, but there's plenty more to learn and the best way to learn is by giving it a try. There are lots of great resources out there to help you along the way. We plan to grow lots of tomatoes once again for the University District food bank at Freeway Estates Community Orchard. Stop by! If I'm around, I'll be happy to talk tomatoes with you!
Sue Hartman
https://freewayestates.org/wp-content/uploads/2021/12/uglybee-logo-003-300x72.png
0
0
Sue Hartman
https://freewayestates.org/wp-content/uploads/2021/12/uglybee-logo-003-300x72.png
Sue Hartman
2019-04-16 15:35:29
2022-01-04 20:48:06
Talkin' Tomatoes