June 19, 2022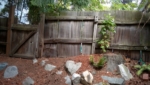 Reverence for Wood is an old book by the early American writer, Eric Sloane. This enjoyable book, with a soothing and thoughtful tone, contains amazing woodworking tips and I applied a couple while making a new garden bed of old-growth cedar. The project took a lot of time but was good for perspective – thinking about the history and the age of the wood.
In 1964 Richard Beyer (Seattle sculptor) and a few other members of University Friends Meeting (UFM) felled and hewed, with hand tools, a cedar snag in the Snoqualmie forest. One of the members was a forester, who estimated the age of the tree to be 900 years. The felled tree was probably split with wedges and a maul, then axes were used to hewn the wood into 'lumber'.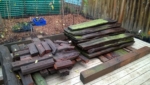 Beyer, a Quaker, used the cedar to construct a fence at the nearby UFM meetinghouse. He carved scenes into many of the fence panels. The carvings varied in their theme and some, noted by a UFM member, involved Native American legends.
Nancy, UFM member, asked for some of the lumber when the Beyer fence had to be replaced in 2021.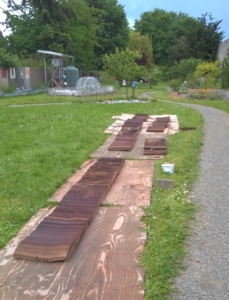 Ruth and Nancy picked up the non-carved cedar pieces, including the gate section.
To make the large cedar boards useful for garden bed material, prepare the wood:
Take off bolts and pull out nails, clean up bolts, nuts and washers, cut the large fence sections to shorter 15″ tall pieces (15 inches will keep the rabbits out), clean wood pieces with wire brushes, take smaller more rectangular pieces to Gudrun , to shape the cedar pieces into posts and braces using a jointer and a band saw, and add tung oil on most pieces (not necessary but brought the color out).
Check the Calendar Page
for work parties
Please email to volunteer
freewayestatescommunityorchard@gmail
At the orchard, Jessi, Lyr, Meg, Erik, Nancy and Lee helped finish the bed, working from this list: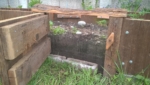 String out a square perimeter, level the perimeter soil of the existing garden bed, match up the larger cedar sections to minimize gaps, add galvanized steel hanger strap to join bottoms of the matched sections, lay those sections into the perimeter, then join them to the posts with bolts, craft a gate, using the hardware from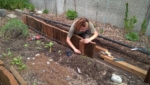 the original gate, add glass behind the gate so visitors can view plant roots, add support pieces to bolt the large wood sections together, then use old wood slats to produce ends for the bed (ran out of cedar).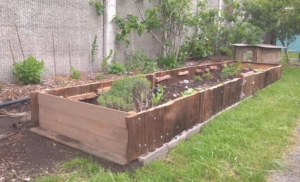 We are frequently repurposing material at FECO, but this wood recycling project was especially challenging, interesting and satisfying for me. Working on the garden bed also increased my reverence for wood.
Ruth
https://freewayestates.org/wp-content/uploads/2021/12/uglybee-logo-003-300x72.png
0
0
Ruth
https://freewayestates.org/wp-content/uploads/2021/12/uglybee-logo-003-300x72.png
Ruth
2022-06-19 17:57:21
2022-06-19 17:57:21
Reverence for Wood