September 30, 2023

To Net or Not
This year I got the hang of netting fruit trees. Not by choice. Our fruit trees were hit by apple maggot fly larvae damage two years ago. The larvae tunnel throughout the apple and ruin the taste (unlike other pest damage that can just be cut off.)

City Fruit gave us some used nets so we netted more fruit trees than we have in the past. Netting takes a lot of time but we thought it worthwhile to harvest pest-free apples. Just after the apples were pollinated, we put bamboo scaffolding in place, lifted the net over tree and then thoroughly sealed the seams with binder clips. The nets eliminated the ability of the Maggot fly to lay eggs on the fruit skin. They can also reduce sun scald because they cut down on UV (80% light transmission) and provide some shade.
These nets are 'bee nets'. They are used by food growers who must avoid cross-pollinating by bees. Bee netting holes are 1.6mm x 6.8mm and the weight is 60 grams per square inch.
The nets don't block earwigs, which were crawling around

everywhere this summer! They usually take bites out of the stem end of the apple, but this year they munched shallow round holes in the fruit. Then rats got in on the action by chewing right through the nets. Like squirrels, they tend to take a few bites of the apple and then jump over to the next one!
It could be that our used nets are easy to chew through.  The nets are certainly vulnerable to large openings from the knife slits we had to clip back together this season.
Check the Calendar Page
for work parties
Sat. Oct 21, 2-4, Annual Cider Fest
Please email to volunteer
freewayestatescommunityorchard@gmail
Another issue is the difficulty of monitoring the health of the tree when you can't step right up to it to check for symptoms. Plus, it's a burden to take down the nets for summer pruning when you just have to put them back up. (We pruned early this year, just before netting.)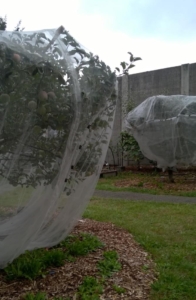 To net or not is still up in the air as far as next season. One detail we will correct, if we net in 2024, is to install longer scaffolding poles so the new growth from the more vigorous varieties doesn't poke out of the net!
One pest barrier that we will certainly employ again are the aluminum skirts around the tree trunks. They are effective at discouraging both rats and squirrels.
We have harvested some flawless apples, which is really satisfying. As for the flawed apples, thank goodness our hard-working volunteers don't say "yuk" when offered imperfect fruit!
Ruth
https://freewayestates.org/wp-content/uploads/2021/12/uglybee-logo-003-300x72.png
0
0
Ruth
https://freewayestates.org/wp-content/uploads/2021/12/uglybee-logo-003-300x72.png
Ruth
2023-09-30 19:51:57
2023-09-30 19:59:37
To Net or Not