March 15, 2021
FECO volunteers, Reid and Jacob, both well over six feet tall, used their height last summer to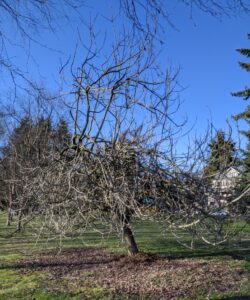 glean a few figs from a tree in Green Lake Park. They agreed that the tree needed care.
This spring, Reid asked me if I might be interested in helping them prune the tree. I was game. "Sure! Ask Colleen Hackett, at Park N Rec, what she thinks. She knows us and she knows we prune fruit trees."
Kevin, senior gardener for Green Lake Park, appreciated Reid's ask for permission. Kevin expressed real delight in having volunteers eager to care for this tree. He explained that it had been planted in 2005 by a Parks Department employee but they could never afford the staff time to prune and care for it.
FECO Plant Sale! Sat Mar 20, 10-1
masks and distancing
everything from Starts to Finishes
Fig pruning class
Sat Mar 27, 10-11:30
donations welcome
We were delighted and a little surprised at the prompt and positive response. I met Jacob and Reid at the tree site. I have never seen a fig tree so dense and tangled. The fig looked as though it had never been pruned. It suffered from abuse – people pulling branches down or climbing the tree to get at the figs. This tree offered an opportunity to sharpen our rehabilitation skills, and do to so in a public space where we can't control what others might do.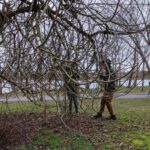 The important part of any pruning effort is to understand the goals of pruning for a particular plant. Kevin stated his goal, "If you can remove the very low branches and the huge forest of suckers around the base of the tree, my mowers will be able to get closer to the trunk."
For our part, we decided that our long-term goal is a healthy tree that bears and ripens a good crop of figs year after year. We know it will take a few years of pruning to remove damaged and excess wood, and create good structure for fruit bearing.
Time to get to work. Reid, Jacob, and I brought out our loppers and pruning saws on a chilly, windy March morning. With a focus on reducing the tree mass, we made only thinning cuts. The heading cuts, that stimulate growth for next years fruit production, will need to wait until we have created good structure.
I'm grateful to Reid and Jacob for hatching the idea of taking this tree into our care. If you see a plant or area that seems neglected, ask the caretaker about it. You just might find yourself with a good opportunity to improve a public space, and learn a few things along the way.
Nancy
https://freewayestates.org/wp-content/uploads/2021/12/uglybee-logo-003-300x72.png
0
0
Ruth
https://freewayestates.org/wp-content/uploads/2021/12/uglybee-logo-003-300x72.png
Ruth
2021-03-15 15:36:07
2022-01-04 20:48:05
Pruners Without Borders