May 3, 2016
April 30, 2016 was the last day to spend our Seattle Neighborhood Matching Grant funds. We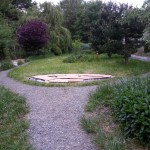 accomplished so much this past 14 months (see prior blog post) but we were still missing a bench. Last year, there was no time to rest but, this year, there is!
We made an effort, searching Craigslist, UW surplus and Second Use websites, but there was hardly a bench to be found.
Then, an amazing gift came our way. On Sunday, April 17, we were short on volunteers so I kept my eyes open, hoping to spot more of our regulars. I didn't want to get my hopes up but it looked like three men were walking toward the orchard.
Sat, May 7, 2-4, Work Party
Sun, May 15, 2-4, Work Party
Sun, Jun 19, 10-12, Work Party
Sun, Jul 17, 10-12, Work Party
It was sunny that day so I raised my hand to my eyebrow to see well. Yes! They were coming our way. Three fine young men from the neighborhood showed up to volunteer. Sturdy and alert, Brooks, Drew and Nathan built a rubble frame for a garden bed, added a couple of shelves to the shed, and dug out a big root ball of Cotoneaster.
When the work was finished, Brooks turned to Sue and me and said, "You need a bench." I smiled ear to ear.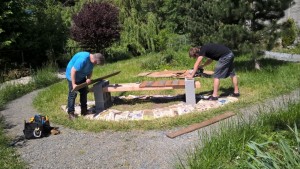 Just in the nick of time, before our grant money ran out, these men did it all: designed the bench, picked a good sitting area, shopped for materials, sheet mulched the sitting area, picked up a load of cedar chips, sanded and sealed the wood and finished the bench on April 30.
Cement block and fir 4x4s serve as the base. Our old rotting wood pallets could be salvaged into slats so Drew took them home to cut them up. However, as luck would have it, just a block from his house, he spotted a free pile of old cedar fence boards and he used those instead. Six inches of cedar chips lie beneath the bench, which won't decompose as fast as arborist chips.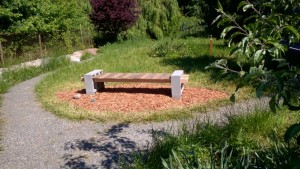 Doesn't it look great!
Please consider showing up at one of the May work parties.
We have a lot to accomplish before summer.
Also, save the date – Sunday, October 2, is our sixth annual cider fest.
Ruth
https://freewayestates.org/wp-content/uploads/2021/12/uglybee-logo-003-300x72.png
0
0
Ruth
https://freewayestates.org/wp-content/uploads/2021/12/uglybee-logo-003-300x72.png
Ruth
2016-05-03 20:17:21
2022-01-04 20:48:07
Ready for a Rest