Global Gardening With KCD
July 3, 2020
Thank you King Conservation District for helping us learn about sustainably grown vegetables from around the globe!
Last November, Clyzzel (Cly) Samson, the new Community Agriculture Program Coordinator for the King Conservation District (KCD), was eager to know more about the local gardens. She contacted us about a visit to Freeway Estates Community Orchard.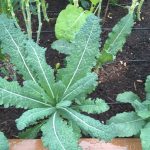 KCD Community Agriculture Program started in 2015 to help increase access to healthy food for all, specifically community gardens & low-income communities of color, as well as educate land users about sustainable resource management. When Cly stopped by for a tour, she explained that KCD is looking for ways to ensure that their programs are serving the needs of ALL who live in King County.
Volunteers are needed!
by appointment
please email
freewayestatescommunityorchard@gmail.com

The KCD Community Agriculture Program offers programs that support urban food gardeners. At FECO, we regularly send soil samples from our vegetable beds to the KCD free soil test program to ensure we are providing a good balance of nutrients and organic matter, but not over-fertilizing.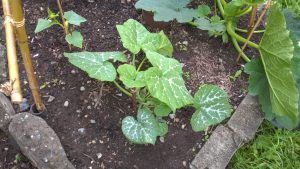 We have also benefitted from the free Cover Crop Seed Giveaway. Early this spring, Cly offered us seeds or plant starts. I grow my own starts so I chose the seeds. Starting from seed allows me the opportunity to choose varieties that have a better chance of survival against diseases and pests that may pop up in our orchard. Cly told me that she planned to order seeds from Kitazawa Seed Company but would be happy to procure from other seed companies if they didn't have what we wanted. Kitizawa has been around since 1917. They specialize in Asian vegetables and carry unique varieties requested by community gardeners.
The seed gift was a wonderful opportunity for us to try out some culturally diverse vegetables that University Food Bank clients and FECO volunteers may be familiar with, or enjoy trying for the first time. Two vegetables that Kitazawa carries that were new to us are Ethiopian Mustard and Teot Bat Put summer squash. Greens like collards, kale and Swiss chard tend to be popular at the Food Bank, and it will be nice to add some culturally different varieties to the mix. How thrilling to try a new summer squash that doesn't look like a zucchini!
If you are not familiar with KCD, you should be! They have supported all who live and work in King County, working on sustainable resource management, since 1949. They strive to promote sustainable stewardship of land and water through a variety of programs including education, technical assistance and providing resources when available. Find out more at their website, https://kingcd.org.
Cly is also a part of the Rainier Valley Corps' Green Pathways Fellowship Program, a fellowship program designed to create living wage entry-level positions, within the environmental justice movement, for low-income young adults.
In case you are interested in planting these two vegetables, I have included more information below.
Sue Hartman
Ethiopian Mustard (Brassica carinata) goes by many names: Ethiopian Kale, Abyssinian Mustard, African Kale, Highland Kale, Ethiopian Blue Mustard and Gomenzer. It is a hybrid of Black Mustard (Brassica nigra) and Wild Cabbage (Brassica Oleracea) developed in the highlands of Ethiopia. It is grown in Ethiopia primarily as a cooking oil crop but is used as a leafy green in many other parts of Africa. The edible seeds can be pounded and added as a spice to various Ethiopian dishes. Researchers are also studying the oil as a source of biofuel (a plane powered entirely by fuel produced from these seeds flew in 2012). There is not much information available on the nutritional content of the leaves, but the seeds are rich in oil and protein.
Ethiopian Mustard looks similar to Lacinato kale (also known as Tuscan or dinosaur), depending on the cultivar and stage of plant growth. Some recommend harvesting the shoot tops when the plants get tall enough to produce secondary shoots lower on the plant. Harvesting this way may give you a 2nd or 3rd cutting off the same plant. We cut the top shoots off most of our plants but left a few uncut to harvest the lower leaves like we do for kale in order to compare both techniques. Ethiopian Mustard can also be grown as a micro and baby green.
Ethiopian Mustard grows well in cool climates but take longer to produce flowers than many other mustard greens grown in the Pacific Northwest. So far, none of our plants have bolted but we'll see how they do once the summer arrives (after the 4th of July, of course!). Ethiopian Mustards grow quickly in a variety of climates, are more drought-tolerant and do not seem to be as attractive to pests as kale or collards.
Not all cultivars of Ethiopian Mustard are alike. Johnny's Selected Seeds sells one called 'Amara' that may have a different flavor profile than what Kitazawa sells. Other cultivars are marketed under different names such as Texsel greens. Breeding projects are underway in Tanzania, Zambia and Zimbabwe to develop new cultivars. As more U.S. seed companies begin to carry Ethiopian Mustard, we may see it's popularity rise locally.
Teot Bat Put (Cucurbita moschata) is a hybrid summer squash that is commonly called avocado squash because the fruits look like avocados! They have a glossy green skin, avocado shape and ivory colored flesh. These squash come from from Korea. The plants produce vines that can grow to 10 feet if they are happy, similar to the Italian Tromboncino or Zucchetta squash. However, they are not supposed to be as rampant as the trombos, which is good since we don't have a huge amount of space to grow in our beds. The vines can be trellised or left to ramble along the ground like pumpkin vines.
According to some, Teot Bat Put is very productive but time will tell. If we have a cool, wet summer, the harvest may be fairly short. They are best harvested when they are about 4" in diameter, 5-6" in length and weigh less than a pound. There are claims that their flavor is better than zucchini, but once again, time will tell since they haven't yet fruited. I was unable to find much information about Teot Bat Put squash, so this will be a good chance to see how well this squash does at our community orchard and garden. If it thrives and is a tasty squash, it could become a regular item.
https://freewayestates.org/wp-content/uploads/2021/12/uglybee-logo-003-300x72.png
0
0
Ruth
https://freewayestates.org/wp-content/uploads/2021/12/uglybee-logo-003-300x72.png
Ruth
2020-07-03 08:37:43
2022-01-04 20:48:05
Global Gardening With KCD