Whether to Wonder about Weather

January 25, 2022
Did my garden get enough rain this week? Will the seeds I planted yesterday need to be watered today? If I work in the garden this afternoon will I need my rain jacket or my sun hat? Or both? These are just a few of the weather-related questions a gardener might ask. Weather apps are helpful but there are online information sources that provide much more information.
If you are in the Puget Sound area and are unfamiliar with our large-scale meteorology I recommend starting here, Encyclopedia of Puget Sound .
In the Seattle area we are fortunate to have a premier atmospheric sciences program at the University of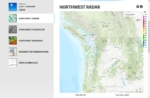 Washington. I use their Department of Atmospheric Sciences website in various ways. For assessing the potential rainfall in the next few hours, the UW radar is one of the best. It's a synthesis of several radar stations over the last several hours. By looking at the movement of rain in the very recent past, and then at the weather to our west, you can estimate conditions for the next several hours. Click in the little information "i" in upper right for an explanation.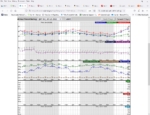 My go-to for forecasts in the one to seven day range is the National Weather Service. It's where all of the weather apps and local forecasters are getting their information. The standard information is all there but don't miss some of the other tools. Two of my favorites are the Hourly Forecast and the Forecast Discussion. The hourly forecast provides hour-by-hour detail on precipitation, wind, temperature, and humidity for the next 48 hours. It is very accurate. In the forecast discussion the on-duty forecaster provides information that supports their current forecast plus their confidence level in the forecast details. Understanding this discussion requires some patience; you need to become familiar with the meteorological terms. Clicking on a word in blue provides a pop-up definition.
Weather for the recent past can help a gardener determine heat and water stress on plants.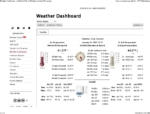 Climatological data show long-term trends that can help with decisions about planting trees and shrubs. In Washington one of the best resources is the WSU Ag Weather site. The summary reports are a good place to start your exploration. Data is available for dozens of stations throughout Washington. This site provides a wealth of agriculture specific information such as soil temperature, evapotranspiration tables, degree-days for pest predictions, powdery mildew predictors, and solar radiation.
Nancy
https://freewayestates.org/wp-content/uploads/2022/01/Weather-Dashboard-used-larger-one-page-_-AgWeatherNet-at-WSU_Page_1.jpg
1275
1672
Nancy
https://freewayestates.org/wp-content/uploads/2021/12/uglybee-logo-003-300x72.png
Nancy
2022-01-25 18:54:24
2022-01-25 18:54:24
Whether to Wonder about Weather