Practical Planting Precursers and Phenology
February 17, 2023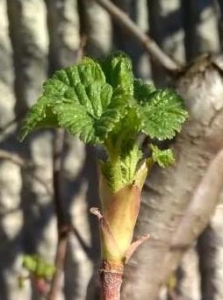 If you love nature and are looking for a field of study, consider Botanical phenology. Check out the programs at the University of Arizona, Brandeis, or Northwestern.
Phenology involves noting the dates of seasonal events such as budburst, flowering, dormancy, migration and hibernation. Scientists who study phenology are interested in the timing of such events in relation to changes in season and climate.
The USA-National Phenology Network coordinates data collection from citizen scientists all over the country. The data is managed by the USA-NPN and is used by researchers, land managers, and policy makers. Also, all the data is available to the public.
Check the Calendar Page
for work parties
Please email to volunteer
freewayestatescommunityorchard@gmail
Locally, there are phenology networks in Marblemount, Tacoma Community College, The Evergreen State College in Olympia, and within the University of Washington's Landscape Architecture Ecological Design & Planning Seminar. You can even start your own Program!
At the orchard, we use plant phenology by paying attention to easily observed events, such as fruit tree bloom time, to track the development of insect pests over the course of the growing season. Observations combined with degree day accumulation models in our area, help us deter non-native pests. For example, when a Seattle Tree Fruit Society member first catches an apple maggot fly in a trap, the emails start flying.
On a more light-hearted note, many of you might be using phenology to plan your garden.
Here are some phenology tips from the Farmer's Almanac (copied with permission):
Blooming crocus are your cue to plant radishes, parsnips, and spinach.
When the forsythia is in bloom, it is safe to plant peas, onion sets, and lettuce.
Half-hardy vegetables, including beets, carrots, and chard, can be planted when the daffodils blossom.
Look for dandelions to bloom before planting potatoes.
Perennial flowers can be planted when the maple trees begin to leaf out.
When quince is blossoming, transplant cabbage and broccoli.
Wait for apple trees to bloom before planting bush beans.
When the apple blossoms fall, plant pole beans and cucumbers.
By the time the lilacs are in full bloom, it will be safe to plant tender annual flowers and squashes.
Transfer tomato transplants to the garden when lily-of-the-valley is in full flower.
Full-sized maple leaves signal time to plant morning glory seeds.
Peppers and eggplant can be transplanted when the bearded irises are blooming.
When peonies blossom, it is safe to plant heat-loving melons, such as cantaloupe.

I would not count on the above timing events, but do let us know if and how you are using plant phenology!
Perhaps more useful data is to know when the last spring frost is likely to occur in the Seattle area.
On average (2006-2020), our last spring frost occurs on March 16 (at Seattle Sand Point climate station, elevation 59 feet). Average? What does that tell me? I would rather know the date, after which, there is very little chance of a frost.
The U.S. Climate Normals website includes not only the dates but the probability of them being true.
For the Sand Point Weather Station the chart shows, at a certain date, the chances of a spring frost after that date. Frost is defined as a layer of ice crystals that form on surfaces, at temperatures between 32°F and 36°F, versus a freeze when temperatures dip below 32°F. Important for spring planting!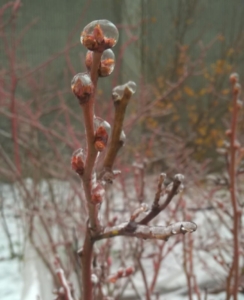 Probability Level
Threshold (°F)
90%
50%
10%
36 °F
Mar 15
Apr 2
Apr 22
32 °F
Feb 9
Mar 9
Mar 28
28 °F
Dec 21
Feb 3
Mar 5
Final note! Start taking the soil temperature on or about March 19. The temperature in Seattle has reached 50°F between March 19 and April 1 in the last few years.
Have Phun!
Ruth
Resources:
Use degree days and plant phenology to anticipate timing of pest problems this spring
Dave Smitley, Michigan State University Extension, Department of Entomology – March 16, 2012
https://www.canr.msu.edu/news/use_degree_days_and_plant_phenology_to_anticipate_timing_of_pest_problems_t
MeadoWatch: a long-term community-science database of wildflower phenology in Mount Rainier National Park 04/01/2022
https://www.nature.com/articles/s41597-022-01206-8
Phenology: Using Nature's Signs & Signals as a Gardener
By Melissa J. Will, Last updated October 6, 2021
https://besjournals.onlinelibrary.wiley.com/doi/10.1111/1365-2435.12309
Tree phenology responses to winter chilling, spring warming, at north and south range limits
James S. Clark, Carl Salk, Jerry Melillo, Jacqueline Mohan, 24 June 2014
https://besjournals.onlinelibrary.wiley.com/doi/full/10.1111/1365-2435.12309
https://freewayestates.org/wp-content/uploads/2021/12/uglybee-logo-003-300x72.png
0
0
Ruth
https://freewayestates.org/wp-content/uploads/2021/12/uglybee-logo-003-300x72.png
Ruth
2023-02-17 17:35:45
2023-02-17 17:35:45
Practical Planting Precursers and Phenology