Ten Years at Freeway Estates
February 18, 2020
Volunteers who put in 20+ hours last year gathered recently to sip Chestnut soup and brainstorm. Good ideas flowed, including a suggestion to add a sign to the kiosk, summarizing our efforts during the past ten years. Below is the content created by the 20-hour club.
Freeway Estates Community Orchard (FECO) is located on Duwamish land. Today this 12,000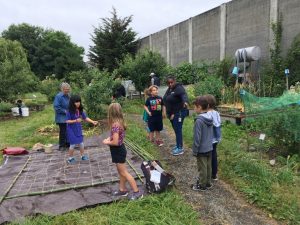 square foot plot is managed by the Washington State Department of Transportation (WSDOT) and leased to FECO.
In 2010, a small group of neighbors planted the first fruit trees and began transitioning the grass and invasive plants to planting guilds. In 2013, the City of Seattle awarded us a Neighborhood Matching Fund grant (NMF) to formally survey the neighbors about their vision for this space. We were unanimous in choosing one concept and created our Vision and Mission Statement:
Vision: Seattle residents have nearby access to a beautiful public space where they can learn and participate in food growing, connect with neighbors, and nurture the environment.
Mission: We are creating an inclusive, action-oriented community, excited about:
–producing organic food to be shared,
–educating ourselves and our neighbors,
–improving and beautifying this public space.
In 2015 we received a large NMF grant and, guided by our steering committee, volunteers built infrastructure which included: gravel paths, a shed re-build, two rain-water cisterns, plumbing for city water, and raised beds. Another small NMF grant in 2018 allowed us to implement a water conservation project.
Sat, Mar 7, 10-12 Work Party
Sun Mar 15, 2-4, Work Party
Mon Mar 30, 6:30-8 Fig Pruning
Mon Apr 6, 6-8, Work Party

All of our NMF grants required volunteer matching hours. We have always exceeded the requirement. To date, more than 150 volunteers have logged a total of 11,000 hours.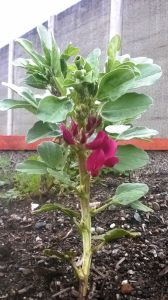 We grow all of our food in compliance with organic standards. We produce our own thermal compost. We continue to learn about urban agriculture and share our knowledge with each other and with other organizations. We sponsor workshops on fruit-tree pruning, compost production, culinary herbs, invasive plants, and pollinators. We regularly host grade-school children. Since 2011, we have offered an annual cider-pressing festival for neighbors and friends.
One of our major ongoing activities is growing food for the University District Food Bank. In 2019, from just four garden beds, we contributed more than 700 pounds of fresh produce for neighbors in need.
We have faced many setbacks in terms of theft and vandalism. It is challenging to work in such a public location. However, when a neighbor walks through and expresses appreciation and gratitude for what we are doing, we feel the rewards outweigh the disappointments.
For the near future, we are increasing our commitment to use resources wisely and to include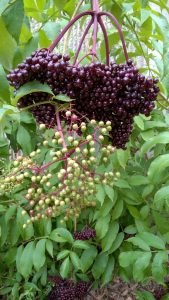 all people.
FECO is a hub where neighbors and volunteers connect. We welcome everyone. No special skills are needed and we have tasks for all levels of ability.
Contact us at freewayestatescommunityorchard@gmail.com.
Support us at FreewayEstates.org
The 2019 20-hour club: Maxwell, Joan, Reid, Kate, Jennifer, Sue, Nancy, Allison, Michelle, Amy, Nora, Ruth, Arly and Brannon
https://freewayestates.org/wp-content/uploads/2021/12/uglybee-logo-003-300x72.png
0
0
Ruth
https://freewayestates.org/wp-content/uploads/2021/12/uglybee-logo-003-300x72.png
Ruth
2020-02-18 08:34:47
2022-01-04 20:48:05
Ten Years at Freeway Estates