The Case of the Knife in the Watermelon
August 6, 2017
Well, no. Actually, the case of the missing spaghetti squash.
Laura and Mitch, new gardeners in the orchard, plopped in some squash starts Memorial Day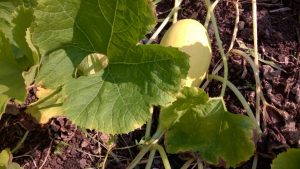 weekend and by the end of July their garden bed was busting with yellow footballs. We were all under the assumption that they planted summer squash. (Winter squash is tricky west of the mountains and usually takes 90 to 135 days to mature.
We were afraid they forgot to harvest so I sent an email letting them know they might want to pick when the squash was small, about six inches, for the finest quality.
A few days later, I discovered seven yellow squash were on the ground, lined up along the path.
Wed, Aug 16, 5-8, Special Work Party – Make Food Bank Bed
Sun, Aug 20, 2-4, Work Party
Sat, Sep 2, 10-12, Work Party
Sat, Sep 16, 10-11, Intro to Qigong
I scratched my head and decided Laura had taken us up on our offer to include them in the next load for the food bank. I carted them home for safekeeping so the rats wouldn't take notice.
The next day Laura stopped at the orchard and began looking for her squash. She had her phone handy so she dialed Encyclopedia Brown. "Brown," she started, "We have a mystery here. I didn't have room in my backpack yesterday for all these heavy squash and now they have disappeared."
Brown solved the mystery within two minutes. "Laura, what has happened here is that the older gardeners here think they know everything. They didn't bother looking at the plant tag in your bed that clearly noted these are spaghetti squash. Indeed, they should be picked when they are the size of a football. You need to call Callard and demand your squash be returned."
We were humbled. Laura and Mitch had pulled out a dozen spaghetti squash before the end of July! That is truly a gardening success. The rest of us will be paying more attention to the moves these newcomers make.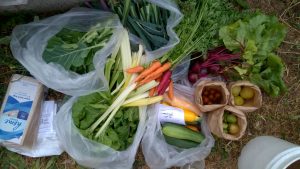 Please consider joining us Wednesday evening, August 16, as we make another food bank bed. Thanks to Sue for last week's harvest (see photo).
Ruth
https://freewayestates.org/wp-content/uploads/2021/12/uglybee-logo-003-300x72.png
0
0
Ruth
https://freewayestates.org/wp-content/uploads/2021/12/uglybee-logo-003-300x72.png
Ruth
2017-08-06 17:56:48
2022-01-04 20:48:06
The Case of the Knife in the Watermelon