Harvest Highlights – Part II – Fruit
December 07, 2016
Now for the fruits of our labor. 2016 was our fifth season and we finally picked a substantial amount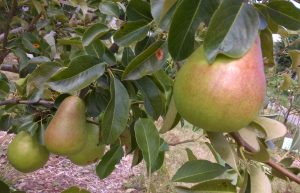 of apples, enough to test and to share. For the first time kiwi berries developed and both chestnuts produced fully pollinated nuts.
We still need to inspire one or two fruit lovers to take on more care of the fruit trees but, in the meantime, we are forwarding a written orchard management plan to CityFruit in hopes of enticing one of their orchard stewards to help with management next year.
To expand my own education, I continue with classes and workshops and I follow-up with summary articles for publication in the WCFS BeeLine.
Berries began in May with the Honeyberry and ended in November with Albion strawberries and a few everbearing Heritage raspberries. (There are ripe black nightshade berries but we didn't allow enough to survive to make jam this year.)
The apple and pear varieties had a good fruit set except for the William's Pride, recovering from its huge outburst in 2015, and the Northern Spy, which is still hiding behind the apron. We grow just a few European pears but we landed enough of the sweet Harrow Delight and the meaty Orcas to begin the complicated tasks of testing for ripeness and determining storage times.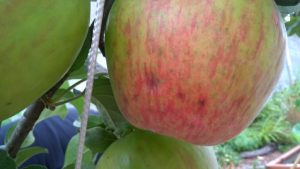 We thinned over 100 apples from the Honeycrisp and we still ended up with a mountain of them. There was some evidence of bitter pit (chemical imbalance involving calcium) but almost all of the apples were edible.
We applied nylon footies and netting to a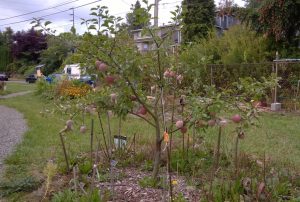 percentage of the apples in order to determine whether these barriers would help prevent insect damage from either or both apple maggot or codling moth. The good news is that the only insect damage was from earwigs munching the tops of a few apples. As such, we can't yet report as to whether the footies or netting are effective pest barriers.
The four-way pear is now a three-way pear. Pseudomonas (widespread bacterial group) set in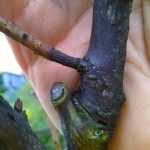 during the summer of 2105. Some, fearing spread of disease, urged us to take out the tree. Instead, we pruned out the black branches, including one entire grafted variety, in hopes that the tree would heal. The tree bounced back this season and bore fruit.
I stacked the deck by hand pollinating the chestnut trees and we got nuts from both trees. We are experimenting with the easiest way to remove that softer, bitter inner layer of skin from these protein packed gems.
The hardy kiwi plants are my spiritual practice. They don't like our wet soil but I refuse to give up. We finally got one of the females to the fruiting stage this year and then she just up and died. No note or anything. We replaced her and hope for better luck. There is another female, still alive, who witnessed the whole thing. We hope she learned something from the fate of her sister.
Remember, you do us a favor just by walking through the orchard. You are all welcome to the regular third Sunday, 2-4 work parties, and you don't have to stay for the whole time.
Ruth
https://freewayestates.org/wp-content/uploads/2021/12/uglybee-logo-003-300x72.png
0
0
Ruth
https://freewayestates.org/wp-content/uploads/2021/12/uglybee-logo-003-300x72.png
Ruth
2016-12-07 13:00:35
2022-01-04 20:48:06
Harvest Highlights – Part II – Fruit