Getting to the Root of the Matter
October 28, 2023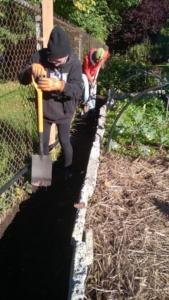 Today was a perfect day for shoveling! Cool temperatures and a warm sun. Best of all, the soil was moist and loose.
Volunteers were willing to follow up on a hunch and dug down to the concrete fence footing next to a poorly performing garden bed. Was the problem too much shade from the Liberty apple tree? If not the shade, then maybe the soil was poor in nutrients? We had the soil chemically tested through King County. The test did not show any particular disorder.
Sue gave up on half of the bed so this year so I planted peas early and later, a mix of greens and celeriac. I remember, as I dug into the soil to plant starts, there were a lot of small tree roots. I figured it might be some roots from the Liberty, but didn't think much of it.
Check the Calendar Page
for work parties
Please email to volunteer
freewayestatescommunityorchard@gmail
As soon as we penetrated the soil today, our tools tugged against a ton of roots headed for the garden bed. Why not? There for the taking were good soil and frequent water!
Recently, regarding some new native plants in the orchard, Marcia suggested I read a classic gardening design book, Garden Design Illustrated. The book had a very broad scope but still I skimmed it, looking for useful tidbits here and there. Bingo! The author included some very useful information on page 42:
"To make an intelligent, practical choice you must know something
about a tree's garden behavior. Some of the best large shade trees for a
garden will be found among the oaks and the birches. Elms, which have
a beautiful, fountain-like branching structure, are impossible garden
trees because they are such greedy feeders. Their voracious fibrous roots
close to the surface of the ground rob other trees, shrubs, and flowers
of all available food and moisture. The roots will cover an area in a
radius of at least fifty feet and often many times that distance."
"Poplars and willows are almost equally bad in this respect and their
roots are especially destructive to drains and sewers."
Did you know this about elm trees? Furrow your brow! There are two giant volunteer American elm trees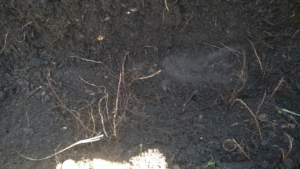 in the neighboring yard, within 50 feet of the mentioned garden bed.
No, we are not chopping down the neighbor's elm trees! Today we cut the roots along the fence and we are thinking of installing some used (Buy Nothing?) cement board to, hopefully, reroute those elm roots.
Time will tell as to whether the roots of next year's garden plants can dig and dive freely, without being choked to death.
Ruth
P.S. Garden trees that Grant recommended, especially for clay soil, were oak, crab apple and fruit trees, all of which have deep root systems.
References:
Grant, John A and Grant, Carol L, Garden Design Illustrated, UW Press, 1954, page 42
Tips for Landscaping Around Trees, Northwest Arbor-Culture Inc., 2020
https://www.nwtree.com/blog/landscaping-around-trees/
Tremback, Brian, Soil Scientist, Quora,
https://www.quora.com/Are-there-any-trees-that-can-help-dry-up-wet-areas-in-a-yard-with-clay-soil-in-Northwest-Pennsylvania
https://freewayestates.org/wp-content/uploads/2021/12/uglybee-logo-003-300x72.png
0
0
Ruth
https://freewayestates.org/wp-content/uploads/2021/12/uglybee-logo-003-300x72.png
Ruth
2023-10-28 16:52:59
2023-10-28 16:52:59
Getting to the Root of the Matter