July 7, 2013
Today, I was thigh deep in Green Lake, helping Friends of Green Lake (FOGL) haul Eurasian Watermilfoil out of the water. (Eurasian milfoil is an invasive non-native plant.)
Dragonflies were everywhere and some were quite large, though not as big as this one pictured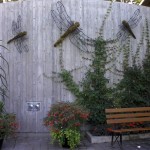 here from Butchart Gardens. (Possible sound wall art?) The dragonflies were landing on the mat of milfoil, downed tree branches and blue-green algae. I was removing some of their perch. Speaking of perch, I freed one fish that was tangled in both milfoil and knotted fish line – yet another reason for milfoil removal.
Watermilfoil is excellent compost (http://www.apms.org/japm/vol16/v16p24.pdf) so Nancy took five bike trailer loads to the orchard. The material will work well under the cardboard, especially since leaves are scarce at this time of year. I spoke with several people who were walking the lake and one man said that milfoil washes up to the upper east corner of Lake Washington, near where he lives. He said he has hauled milfoil to his garden and he noted that it took about a year to break down.
Save The Dates
1st Public design meeting Aug 18. 2nd meeting Sep 28 – Both at the Orchard.
Today at the lake, I also heard a loud commanding boot camp instructor. Hmm… I said to myself, I know a good boot camp class that is free: our next sheet mulch party, Sunday, July 14, 2-4 pm! (All are welcome and only one job requires brute strength.)
Other important news: Thanks to the hiring committee of Justin, Nancy and Pam, we hired Barker & Associates as our Landscape Architects (LA) for the upcoming Orchard community design process. Jackie Cramer will be on the team as the permaculture expert.
We can sure use more helpers, especially for Nancy, who is in charge of hosting the three public meetings at which the community design process will unfold. Please give us a call or send an email. Also, keep your eye on the calendar page of this website.
Thank you to Aaron for designing our brochure and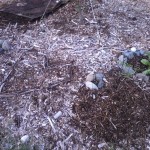 adopting Alex's three tree circles (photo at right). Thank you to Melany for providing professional signs for the trees! Thank you to Justin, Nancy, Joan, Jennifer & Marcus, Max and Dana for their excellent sheet mulching Sunday, June 30.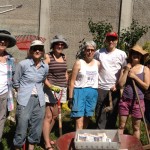 Finally, there is interest in hosting Seattle Night Out (Against Crime), at the Orchard, Tuesday evening August 6. We love the idea but many of us are busy with the Neighborhood Matching Grant responsibilities. Please speak up if you are willing to help coordinate. A volunteer who will organize entertainment has already stepped forward.
Ruth
https://freewayestates.org/wp-content/uploads/2021/12/uglybee-logo-003-300x72.png
0
0
Ruth
https://freewayestates.org/wp-content/uploads/2021/12/uglybee-logo-003-300x72.png
Ruth
2013-07-06 18:42:11
2022-01-04 20:48:08
Day of Dragonflies