February 21, 2015
The shed remodel, designed and built by FECO volunteers, is 99 percent finished. This is the first of four infrastructure projects slated to be completed in 2105.
We will tell the shed story with a few photos. Suffice it to say, it took more hours than we expected. However, we learned a lot and it was a great success. We now have a roof that will catch about 3,000 gallons of water per year. (The water cisterns are on their way from Bellingham.)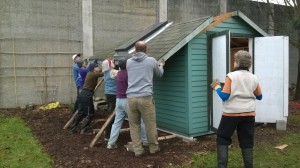 First, the old roof came down. All wood has been recycled into the new walls and roof.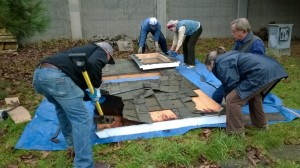 Then the shed was moved to accommodate trees and cisterns. Justin's method for moving: steel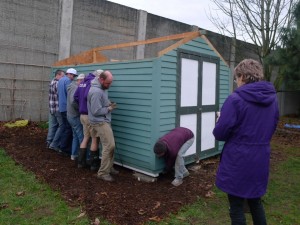 pipes, ropes and brute strength.
We are so grateful for the particular dedication of Ken Yu, who joined the 20-Hour Club in record time, a mere two months. Ken is on the board of the Northeast Tool Library and he took full responsibility for tools and helped with design.
Pushing the pre-made pony walls up was easier than we thought it would be.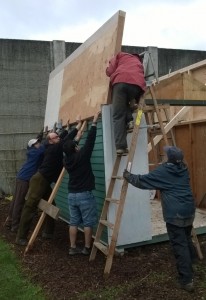 Can we again thank Dunn Lumber for giving us a $600 discount for construction supplies!
Special thanks go to furniture maker Gale Backer who donated the use of a compressor and chop saw, with a free lesson included.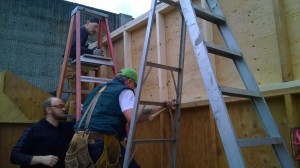 We added the rafters and end walls and then polycarbonate roof panels and cedar siding.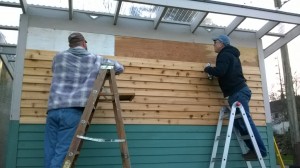 The following volunteers worked multiple days: Justin H, Ken Y, Guy A, and Max M. Others taking part in this successful and educational rebuild project: Renee J, Fernando V, Leslie J, Pat C, Vido C, Louis, Joan D, Becky C, Jennifer K, Nora L, Ellen H, Michelle P, Nancy M, Tracy H, Craig P, Johnny S, Jim S, Kirt S, Byron G, Mark H, Dirk H, Brent C, John K, Dave M, Ryan P, Nancy H, Janet S, Maski S.
During the build, two neighbors stopped by. They had spotted FECO on Google Maps. They have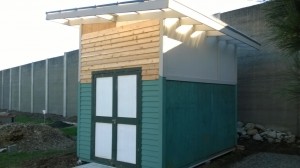 great ideas for activating another nearby  space next to the freeway. Volunteers! You are not just creating a vibrant neighborhood space, you are also inspiring and supporting other to do the same.
Ruth
https://freewayestates.org/wp-content/uploads/2021/12/uglybee-logo-003-300x72.png
0
0
Ruth
https://freewayestates.org/wp-content/uploads/2021/12/uglybee-logo-003-300x72.png
Ruth
2015-02-21 09:02:15
2022-01-04 20:48:07
Too Busy To Blog