2014 – A Pivotal Year For The Orchard
02/07/2014
We are off to a good start, already we have one well attended and extremely productive work party under our belt (see photo).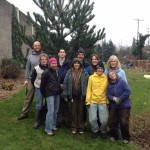 The City of Seattle funded community design process is behind us. We can now focus on implementing the resulting final design (see Library page) that the neighbors are excited about.
This week, ten diligent volunteers met to enjoy a light meal (including lotus root!) and outline top priorities for 2014. We began with a go-around, allowing each volunteer to voice his or her hopes and desires for 2014, and beyond. Interests ran the gamut but all resonated with our mission.
We agreed to three priorities for the orchard:
1) Take Good Care Of What We Have Already Planted
Joan, Justin, Ruth and Nancy M. will share the watering responsibilities, with Nancy H. as a substitute. We will continue with tree guild mulching and weeding. We are very lucky to benefit from top-notch pruning by Ingela Wanerstrand.
2) Water Research
We are entertaining all ideas about securing water for the site, especially since the cost to establish service from the City will cost $10,000.
We had consensus that we should consider a water catchment/storage system, if not as the primary water source, as a sound backup. We will likely end up with a 336 square foot roof on the shed. During an average year in Seattle, that roof could catch up to 7,257 gallons of water, well more than we could use no matter how we build out the site! (In Seattle, the average rainfall is 36″. Two thirds of the rain falls in the winter, from November through March. One inch of rain falling on a square foot of surface yields approximately 0.6 gallons of water.)
Becky, Sue H., Ruth and Justin are researching different ideas about catchment and storage.
3) Community Events
There is a very strong commitment to continuing the events that we host, especially Seattle Night Out (August 5) the Annual Cider Fest (October 18), and the annual Pruning Class (February 15). These events are social binders for the neighborhood, enjoyable, and they further our vision to allow Seattle residents to have nearby access to a beautiful public space where they can learn and participate in food growing, connect with neighbors, and nurture the environment.
Michelle P. has already volunteered to organize this summer's Night Out. We welcome others to join her team or to start the planning for the Cider Fest. Michelle is also researching and coordinating possible funding sources.
Sat, Feb 15, 10:30-noon, Pruning Class
Suggested donation $10 per family.
Sun, Feb 16, 2-4pm, Work Party
Come for any amount of time that works for you.
Other Commitments
Nancy H., Kimberly and Jennifer have started planning for certain early plantings that can be installed with very little summer water requirements.
Ruth and Justin are committed to reducing their FECO administrative hours in 2014! Boy, that grant was time consuming. However, they both will continue to provide leadership, continue with various tasks, and provide support for the efforts that others have taken on.
Dana and Nora could not attend but both are willing to entertain proposals for administrative assignments this year.
We have an inspiring team and we will be reaching out to those who more recently volunteered to help with the orchard.
Large holes that we still need to fill, and that are closely related to our top priorities are:
1) Finding a Word Press expert who would be willing to donate up to two hours per month to make sure we get the correct updates we need, set up a back-up system for our content, and troubleshoot now and then.
2) Finding someone well versed in construction who would oversee the building of a shed that will have particularly interesting design features.
We are so appreciative of all of the other support we get from you who help with orchard labor, marketing, and general encouragement.
We welcome all ideas and suggestions.
Ruth
https://freewayestates.org/wp-content/uploads/2021/12/uglybee-logo-003-300x72.png
0
0
Ruth
https://freewayestates.org/wp-content/uploads/2021/12/uglybee-logo-003-300x72.png
Ruth
2014-02-07 17:04:21
2022-01-04 20:48:07
2014 – A Pivotal Year For The Orchard