World Premiere Video – about FECO!
September 21, 2020
FECO World Premiere! Welcome to Freeway Estates Community Orchard
Here it is friends – a video about us! We commissioned a very talented and patient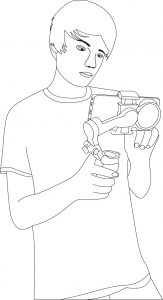 producer/videographer, Carter Raaen, and we were privileged to catch the following interview with him.
FECO: Did you watch movies/videos when you were younger?
Carter: Yeah. I have been watching movies all my life, especially Disney movies, kids movies. Now, I watch a movie every day.
FECO: A favorite Disney movie?
Carter: The 1991 version of Beauty and the Beast. The songs, the characters, and the story … everything was real good. There been sequels and a remake but I prefer the original.
FECO: What happened that made you want to make videos?
Carter: In 6th grade, I played video games, especially Minecraft. Friends were making videos of themselves building things with Minecraft and I started doing the same. We didn't need any editing equipment, just our smart phones. I also started a YouTube channel. Making videos helped me appreciate movies and the behind the scenes work. When I started making videos where some editing was needed, I just used some screen recording software.
When I was a sophomore in high school, I took a photography class that taught me the basics. I learned some basics from my father; he had older cameras. I also took a film class that year and we made short videos in groups. My junior year I took a film class as well.
FECO: Do you have all of the equipment that you need?
Carter: I don't have a videographer camera because they are too pricey … probably $2,500 or so. However, it is an inspiration to know that Shawn Baker and Steven Soderbergh just use their smart phones.
FECO: What obstacles did you face, at the beginning, or now?
Carter: Yeah. As I have done more research, I find you can get more phone accessories, but they are also expensive.
FECO: Did making our video give you any insights or new skills?
Carter: I got an app called Filmic Pro that allows me to make adjustments like I can with a real camera (shutter speed, ISO, etc.). Smart cameras don't let you do that. So that was a new application for me. The other new thing was … I had never worked with a group other than my friends.
Volunteers are needed!
by appointment
please email
freewayestatescommunityorchard@gmail.com
10th Annual Cider Fest!

Sat Oct 10, 2-4pm
check calendar for details
FECO: Is there a videographer network group for you in Seattle?
Carter: I don't belong to any professional group. I do have a group of friends to make videos with. Most are the same people I made videos with as a sophomore in high school.
FECO: What is your ultimate goal with video making?
Carter: Not sure. I may get an undergraduate degree in Cinema & Media Studies. At any rate, I will be taking film classes at the UW. Maybe Hollywood, but it's real competitive.
FECO: Is there anything else about videography that you think would be interesting to people outside "the know"?
Carter: A smart phone is a great way to start. It's not nearly as hard as it used to be to make a film.
Thank you Carter.
Carter's YouTube channel is www.youtube.com/nilmersteve
There, you can find his reviews of his favorite 46 animated films produced by Disney Studios.
Here's an excerpt from his review of Beauty and The Beast:
" … Every song slaps in terms of purpose and Gaston as a hilarious villain and Belle is a great antagonist. The romance alone is super compelling and makes the average Disney love story look embarrassing …
Ruth
https://freewayestates.org/wp-content/uploads/2021/12/uglybee-logo-003-300x72.png
0
0
Ruth
https://freewayestates.org/wp-content/uploads/2021/12/uglybee-logo-003-300x72.png
Ruth
2020-09-21 19:47:08
2022-01-04 20:48:05
World Premiere Video – about FECO!