Path Project Procures Power Players
March 17, 2022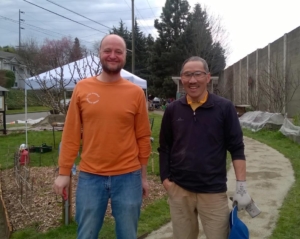 Ken Yu
Last Thursday was tough. We spent hours filling in ruts from the gravel truck. But, as we were getting ready to leave, Ken got out of his car. I smiled and my shoulder blades dropped down my back.
Ken, always conscientious, wanted to look everything over, to be fully prepared for the big gravel spread on Saturday.
We would be adding 1/4 minus to the entire path. Ken agreed to start out on the Dingo, and Justin agreed to run the compactor. Nancy was so pleased! FECO had two of the starters from the 2015 (infrastructure) All-Star team, working on this path rehab project.
Walking around the orchard, you will see or sense some of Ken's handiwork, such as:
the vertical garden (that he made from a photo), the irrigation valve covers, the Faswall garden beds, the plywood wall (now painted with fruit), the water-catchment roof, and the shed enlargement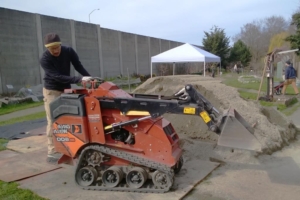 Ken reviewed of all my figures and measurements for the shed rebuild, pushed the Mule (gas-powered wheelbarrow) all day during the 2015 original path construction project, attended committee meetings, moved the green cistern to the orchard, etc! etc! More recently, from 2018 through 2021, Ken regularly checked our website for errors.
Ken is a professional volunteer. He has served on the steering committee of the NE Seattle Tool Library for years. He assisted with many construction projects for Habitat for Humanity and built tiny homes for Low-Income Housing Institute (LIHI).
Ken informed me, "These days, a different non-profit builds the tiny homes but, when a village gets set up, they still need to build steps and decks and … well … a lot goes into the whole setup."
Additionally, Ken has volunteered with health clinics for the Seattle Center Foundation. And, guess who also helped out when COVID vaccine efforts were gearing up. What a great way to retire! What a great team player!
Ken still has our back. We often get an email about some type of building material he spotted somewhere.
Check the Calendar Page
for work parties
Sat March 26, 10-1:00 Plant Sale
Please email to volunteer
freewayestatescommunityorchard@gmail
Justin Hansen
We got to know Justin at the first (2011) cider fest. He volunteered the whole day.
Justin's mark on the orchard? From the beginning of the orchard, through the big infrastructure build ending late summer of 2015, Justin was second in total volunteer hours.
Justin is your utility player! Whatever basic infrastructure you see at the orchard, Justin played a role. Examples of his other contributions:
Planning for the Seattle Neighborhood Matching Grant infrastructure work, planting four blueberry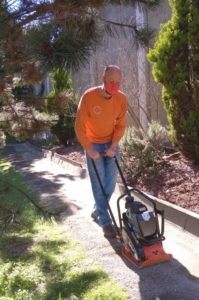 plants (volunteers enjoy the berries more than anything!), organizing Cider Fests, participating in the Dynamic Governance workshop, note-taking at Department of Neighborhoods' (DON) meetings, website meetings, collecting bamboo and burlap, working on Gantt charts, developing job descriptions for grants, interviewing Architectural candidates and writing up candidate summaries, researching ADA path requirements, meeting with neighbors about the orchard design grant, marketing for Night Out, editing our brochure, coordinating public meetings for the DON infrastructure grant. Are you getting the picture?
More, much more:  load and unload a truckload of oak logs for the FECO mushroom inoculation party, sheet mulch Himalayan blackberries, move the shed a few feet, pick up urbanite, dig up and find homes for Cyprus, oak and birch trees, fabricate the water spigot posts, find and disassemble corrugated steel for the asparagus bed, make all the CAD drawings for the City water line and the original gravel path project, and spend all day on the gas-powered compactor during the 2015 gravel path build.
Then, late in 2015, Melody and Justin's son West was born. Justin became busy enough being a father,
spouse and working full-time plus.
These days, West and Melody volunteer and Justin is still recuperating! Until, that is, March 12, the day of the gravel spread.
Big players. Supportive, thoughtful, capable, and just plain lovable! Honoring both of them has been long overdue.
Ruth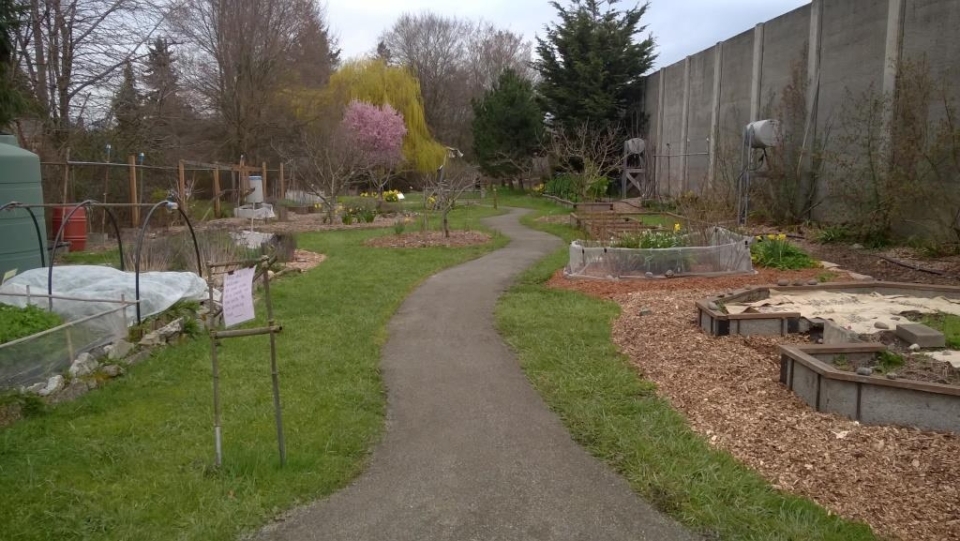 https://freewayestates.org/wp-content/uploads/2021/12/uglybee-logo-003-300x72.png
0
0
Ruth
https://freewayestates.org/wp-content/uploads/2021/12/uglybee-logo-003-300x72.png
Ruth
2022-03-17 13:20:29
2022-03-17 13:20:29
Path Project Procures Power Players