I Have My Mushroom Log. Now What?
November 19, 2013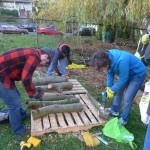 I am walking the neighborhood today, prying off flyers from telephone poles, recalling Sunday's crazed mushroom event at the orchard.
There was generosity. Mark came and inoculated two logs that were each about six inches long! Might not work. Then he way overpaid, but refused the change. Thank you, Mark.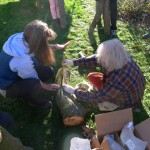 There was enthusiasm. Greg had a big grin on his face when we pulled three brand new still-in-the-box toothbrushes out of his pocket to show me. (Most of us took the opportunity to change out our used toothbrushes.)
There was confusion. At one point I thought we volunteers might be tossed over the fence into the blackberry bramble … not enough drill bits, guests having to wait in line, participants wanting options not anticipated.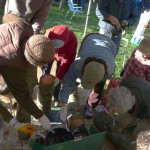 There was perseverance. One man had to use my grandfather's 5/16 drill bit, probably bought in the 1920s. (I used it to drill out six logs a few weeks ago.) Quite a workout.
There was success. With the aid of another mighty crew of volunteers, all told, everyone learned something new and met a neighbor or said hello to an old friend.
Over one hundred people stopped by to haul out one or two logs. Most inoculated their log themselves and children assisted with the steps – drill the holes, plug them with spawn, then wax over the holes.
Everyone got a sense of both the dowel method and sawdust method of mushroom inoculation. They also watched Milton, of the NW Mycological Society, make oyster mushroom kits for over 30 children for free. He makes a fabulous kit in a plastic bag that is nearly fool proof.
Sun, Dec 8, 2-4pm, Work Party
Come for any amount of time that works for you.
We consider this a group experiment. On the Library page of this website is a file of the handout from the manufacturer of the spawn. You have C-41 wide-range Shiitake spawn (except a few of you pounded in dowels colonized with Pearl Oyster spawn). We would love to hear from you when you attempt to force fruit (mushrooms) next year. If you get a crop, please share your method with us.
My log will reside outdoors under the forsythia and I will be watering it when there is little rain. Next fall, I will soak the log in cool water to create a change in both temperature and moisture, overemphasizing our natural mushroom-producing fall weather.
What a great way to make use of all of this shade around our homes. Grow mushrooms! (See photo for the mushroom pair that sprung up in our chip pile last week!)
Thanks so much to Jennifer, Justin, Nancy H, Joan, Sue Ellen, Craig, Greg, Nancy M, Milton, Ellen and Jim, Michelle P, and the nice tall man who showed up with a drill and asked how he could help!
Ruth
https://freewayestates.org/wp-content/uploads/2021/12/uglybee-logo-003-300x72.png
0
0
Ruth
https://freewayestates.org/wp-content/uploads/2021/12/uglybee-logo-003-300x72.png
Ruth
2013-11-19 08:20:42
2022-01-04 20:48:07
I Have My Mushroom Log. Now What?