NANCY, PLEASE STEP FORWARD
April 30, 2022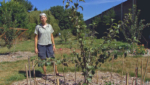 Back in 2013, KING 5 came out to interview a representative from Freeway Estates Community Orchard. I pushed Nancy out to face the interviewer. She has a strong voice, a good memory and, she's willing!
Recently, Nancy has been interviewed three times about FECO.
The first call was from an independent researcher. Eleanor Boba, was interested in the history of the community gardens in Seattle. She was curious as to how we got started.
Check the Calendar Page
for work parties
Please email to volunteer
freewayestatescommunityorchard@gmail
Midway through the interview, Nancy realized that a Friend from University Meeting, Eileen Long, had been gardening at Picardo P-Patch for nearly 50 years, was involved in the leadership and was also instrumental in adding Picardo's compost toilet, the Picaloo. Picardo, the first P-Patch, transitioned to a P-Patch in the 1960s. Nancy passed on Eileen's contact information.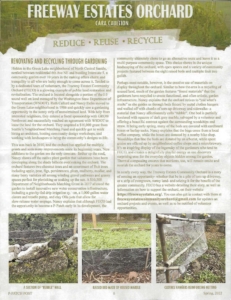 Next up. Two students from Seattle University, writers for the P-Patch Post (published by our fiscal sponsor, GROW Northwest), wanted to write up a feature article about FECO. They came for a tour and were very impressed with our use of recycled materials. Their kind article has been published, but is not yet posted to the GROW website.
Most recently, six students, from the UW Sustainability Studio, were working on a project about urban forests. Their undergraduate degrees varied wildly, from psychology to environmental engineering.
Nancy to the rescue. The students zoomed with Nancy for an hour and asked questions about all aspects of FECO. They also interviewed representatives from six other organizations and then summarized their findings in a webinar on March 10, 2022.
The student's Project Title – The Importance of Community engagement in Urban Forestry for Climate Change Mitigation
Students worked with Cascadia Climate Action (CCA) and documents related to their presentation are posted to the CCA website.
The students summarized the importance of an urban forest as:
Helps mitigate climate change, including heat island effects
Connects people to the environment
Fosters relationships within the community
Adds natural beauty to urban areas
Provides health benefits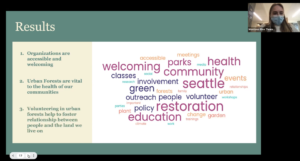 They made tables and summaries so potential volunteers could sift through volunteer opportunities that are catered to individual goals and interests. Some searchable terms on the tables include: low commitment, physical work, or policy.
Here is the link to the student's 15 minute presentation. Their section begins 35 minutes into the webinar. (This link is live for 30 days.)
https://washington.zoom.us/rec/share/zyeBWyJvtEH5eP8NCZNiLdk25Bb9XZv2YuupAf5891pHBNSN-oezcDjNrderNqYG.OPgBcdNJfO555eWb?startTime=1646940165000
It's so exciting to have students and writers enthusiastic about urban food-growing sites. Question, do you think these sites increase or decrease in the future? Interest is clearly on the upswing!
Ruth
https://freewayestates.org/wp-content/uploads/2021/12/uglybee-logo-003-300x72.png
0
0
Ruth
https://freewayestates.org/wp-content/uploads/2021/12/uglybee-logo-003-300x72.png
Ruth
2022-04-30 15:40:18
2022-04-30 19:12:30
NANCY, PLEASE STEP FORWARD