In Praise of the Power of Pollinators
August 5, 2018
Gardening is hard work. It is rewarding, but the task is never over. That's why we should always remember to give thanks to all the help we get at the orchard. Our wonderful volunteers help keep us going. But our hardest workers are some of our smallest. Without our pollinat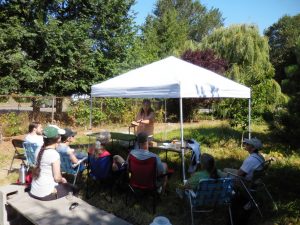 ors, we wouldn't be able to enjoy the bounty from our gardens. We rely on plants to power us, and our plants rely on them. They help keep our flowers, fruits, and vegetables strong.
Christine Ranegger came out to the orchard on July 21st to teach us about our six-legged volunteers. Christine is a neighborhood captain with the Puget Sound Beekeepers Association, and her expertise and passion for the bees is clear. I and the other lucky attendees learned a lot.
Sun, Aug 19, 2-4, Work Party
Sat, Sep 1, 10-noon, Work Party
Sun Sep 9, 10-11, Intro to Qi Gong
Sun, Sep 16, 2-4, Work Party
We learned about three different types of bees from our capable instructor. One of the most surprising facts I took away was that bumblebees and honey bees were two entirely different species! The honey bee is the bee most of us think of. Large nests, bee dances, and a painful stinger left in your skin are all hallmarks of the honey bee. Honey bees also have a further range than bumblebees, sometimes traveling two miles away from the hive in search of nectar. While bumblebees create nests and create complex social structures, they don't have some of the same interesting behaviors and dynamics as honey bees. When a new honey bee queen is born, the old queen peacefully leaves the hive with a set of worker bees. If you ever see a swarm of bees, don't hesitate to contact your local bee-keeping association or fire department! The bees might find a home with a local beekeeper, instead of in the siding of a home.
We also learned about mason bees. These bees prefer solitude, and typically range only a couple of hundred feet from their home base. They like to nest i

n blocks with tubular holes in them. The females are usually placed near the back of the hole, while the male cocoons are placed near the front. This strategy allows the males to hatch first and protects the valuable, pollinating female cocoons from hungry woodpeckers!
The weather was perfect, and I left inspired to seek out my apian friends the next time I walked past a lavender bush. It didn't hurt that I was able to walk away with a jar of Christine's delicious honey!
Max
https://freewayestates.org/wp-content/uploads/2021/12/uglybee-logo-003-300x72.png
0
0
Ruth
https://freewayestates.org/wp-content/uploads/2021/12/uglybee-logo-003-300x72.png
Ruth
2018-08-05 18:42:57
2022-01-04 20:48:06
In Praise of the Power of Pollinators