New Cistern and Water Catchment Roof
Installed 01/05/2018
The new 1,000-gallon cistern sits apart from the two larger 1,500-gallon cisterns near the shed. It was translucent so we painted it green to minimize UV light penetration and resulting algae growth inside. We placed it on a pad of 5/8″-minus crushed rock over a couple inches of sand.
Next we built a bamboo structure to hold a roof. The bamboo is held together with hose clamps. We built a roof of the same clear polycarbonate material that is on top of the existing shed. The new roof is 6-foot by 10-foot, which is the size needed to fill one 1,000 gallon cistern over the course of a normal winter in Seattle (30 inches of rain outside of the summer months).
The roof also provides an important benefit of keeping plant materials for future composting dry. Plant material that stays dry holds its nutrients and we use it to build thermal compost piles twice a year. High quality compost is the centerpiece of any gardening operation and plays an important role in water conservation. Compost holds ten times its weight in moisture, staving off runoff and allowing for more efficient water use.
The pipe to the cistern only has to be 1-inch pipe. Even a half-inch pipe will accommodate seven gallons per minute and, during a once in 100-year Seattle storm, the rate of rain coming off our new roof will be less than one gallon per minute.
Note the compost materials drying rack under the right side of the roof.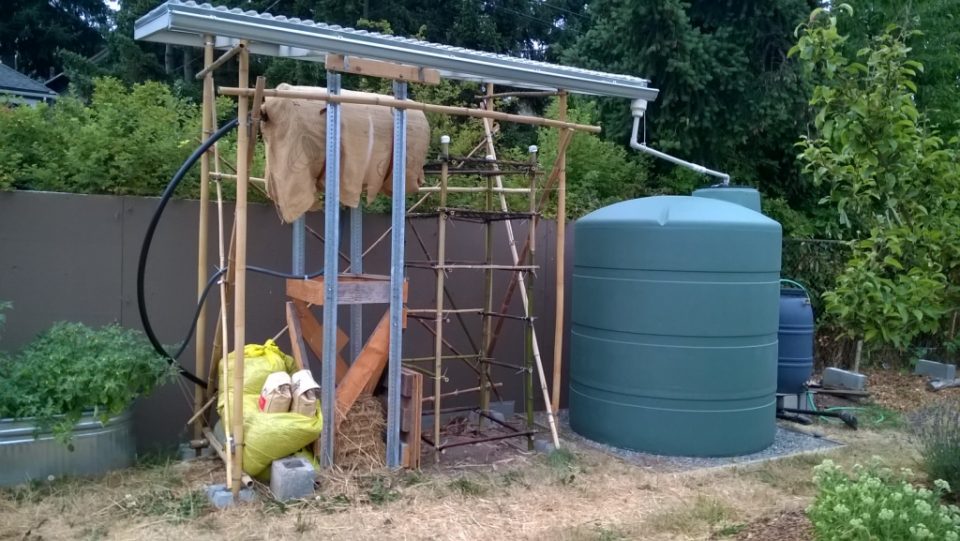 ---
← Perforated Pipe Compost Drying Rack →