Wapato – Against All Odds
April 26, 2023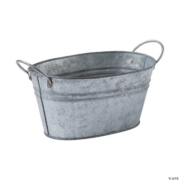 Hang on to old wash basins, especially if they have a small leak. You never know when you might need to make a water garden!
I am intrigued by wild native plants* that served as food for the Coast Salish Peoples. The food plants we grow at the orchard are very different from their wild origins. For example, the apple began in Central Asia as a sour crab. All Brassica cultivars originate from Brassica oleracea and Brassica rapa and hybridization began at least as far back as 2000 BC!
A total beginner, I did some reading and then bought a few native edible plants from Native Foods Nursery. In my zeal to grow Wapato (Indian Potato, or Broadleaf Arrowhead) Sagittaria latifolia, it didn't register that this is a wetland plant! We have no wetlands at FECO.
I had to quickly put together a sufficient environment where Wapato would survive. That environment needs to be similar to marshes, shorelines, or on edges of lakes, ponds, and sloughs. Wapato prefers mucky freshwater soils and tolerates prolonged soil saturation. In addition to its food value, Wapato attracts bees, other pollinators and songbirds. (Warning, waterfowl and turtles fancy this tasty food!)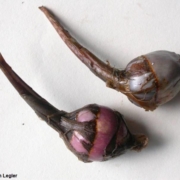 Mucky soil. OK. I handle that. A couple of old wash basins popped up from a search on Craigslist. I secured one, buried it in a garden bed, then added soil and water. In early March, I pushed three tubers into the muck, then added a thin layer of burlap to make sure the bees would not drown in the puddle at the other end of the basin.
Beginner's luck! In a matter of a week, I saw leaf stems springing from the tubers. By mid-April, a flower was forming. Each time I go to the orchard I check the Wapato, with wonder and awe.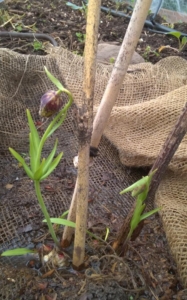 At present, I am trying to propagate a native cranberry, Vaccinium macrocarpon. If propagation is successful, I know I won't be able to duplicate the environment needed for cranberry. So please, if you live near an area with acid soils and peat bogs, swamps, wet shores, headlands, or poorly drained upland meadows, let me know!
Growing native food plants is one of many ideas from an assignment for an ongoing FECO subcommittee, Salish Solidarity. Our group is centered on recognizing that we garden on land once managed by Coast Salish Tribes.
Ruth
* https://www.mdpi.com/2223-7747/9/11/1446
Crop wild relatives (CWR), in addition to being important components of ecosystems, are critical sources of genetic variation for crop improvement programs. These wild relatives often display more genetic variability than their cultivated counterparts and their evolution in the wild is dynamic, driven by interactions with both biotic and abiotic stressors [1].
[1] Greene, S.L.; Khoury, C.K.; Williams, K.A. Wild Plant Genetic Resources in North America: An Overview. In North American Crop Wild Relatives, Volume 1: Conservation Strategies; Greene, S.L., Williams, K.A., Khoury, C.K., Eds.; Springer International Publishing: Cham, Switzerland, 2018; pp. 3–31.
https://freewayestates.org/wp-content/uploads/2021/12/uglybee-logo-003-300x72.png
0
0
Ruth
https://freewayestates.org/wp-content/uploads/2021/12/uglybee-logo-003-300x72.png
Ruth
2023-04-26 09:11:54
2023-04-26 09:11:54
Wapato – Against All Odds