March 26, 2019
Recently, I was watching someone rinse a plastic polyethylene plant-potting container in a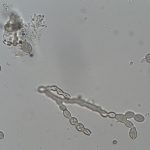 bleach solution for reuse. I was pretty sure that pot needed to be thoroughly rinsed of organic matter prior to the bleach rinse.
The observation made me think of several reasons why a gardener needs to know how kill plant pathogenic microbes, e.g., effectiveness of our thermal composting process, best product to spray on our pruning shears or, preparation of a previously purposed plastic pot for propagation.
I tried and failed to make a helpful chart. It proved far too difficult, due to so many factors to consider:
varied expressions of quantities
different types of substrates and their porosity
amount of contact time needed
type of organism and state of organism
health hazards
the level of disinfectant desired
shelf life of product
humidity in relation to temperature
corrosiveness
cost of product
where the organism lies and whether you can even get at the bugger
Method

↓

Botrytis cinerea (gray mold-fungal)
Nectria galligena (apple canker)
Weed seed

(sow thistle)

Verticillium dahliae (Verticillium wilt)

Pseudomonas syringae pv. tomato (Bacterial speck)
0°F
yawn
165°F
Dead 1 hr
Dead 1 hr
5% sodium hypochlorite (bleach) sol.
2g/liter 20 hr LD90
4%v/v iso. alcohol
effective
.3% iodine solution
93% dead
93% dead
Quaternary ammonium
4g/liter 20 hr LD90
Heat destroys microbes best and heat with humidity is even better. However, except during our thermal composting process, heating to 149F for two hours is not practical. As such, I tried to get some answers about products that are available and familiar.
Sat, Apr 6, 10-12, Work Party
Sun Apr 21, 2-4, Work Party
Sat May 4, 10-12, Work Party
Sun May 19, 2-4, Work Party

Let's start with bleach. Sodium hypochlorite is very reactive, affected by surface contamination from organic matter and it's irritating to use. It's difficult to know what dose to use and, at the concentrations that many people use, it leaves a residue on the surface. (1000 ppm will destroy all microbial pathogens but for the tough resting spores. Using household bleach (5.25% sodium hypochlorite), the dilution would be 1:50 or 5T per gallon.)
Ethanol (think Everclear) can kill most organisms but it is highly flammable and evaporates quickly. It dries out the organism (which is why the similar product, isopropyl alcohol, is better as a disinfectant for the skin). Alcohols reportedly won't kill some spores and they harden rubber and some plastics on tools.
I could not get a clear idea whether hydrogen peroxide is a good pathogen hunter. Articles refer to its effectiveness, especially on inanimate surfaces, but indicate that hydrogen dioxide is a superior disinfectant on plant production surfaces.
Quaternary ammonium chloride. Hmm. There is a lot of controversy about Quats and they are reported to be not always effective against the tough customer – the fungal resting spores.
This brings me to a possible unsung hero – iodine. Remember when you went camping where the water was bad. You mixed the two tablets in water and waited. That second tablet helps with the discoloring and the taste and also is a solubilizing agent. One potential downside is shelf life – about five years.
A flameless loop sterilizer might be the ultimate tool but not readily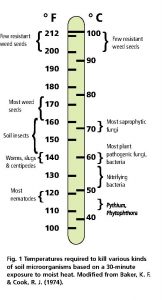 available and you would need a power source. (We will leave out solarization, which, for the time being anyway, might be challenging in Western Washington.)
This study is way more complex that I could have ever imagined. There is no one size fits all solution. Shown here is a popular chart from two State of Washington professors (who are also fine authors of plant pathology books).
Good reads:
Investigation on the fungitoxic effect of an iodine solution on three plant pathogens in vitro. Bengt Boysen.
Bachelor project in the Danish-Swedish Horticulture programme
2004-1 (ISSN 1652-1579)
Time and Temperature Requirements for Weed Seed Thermal Death
Ruth M. Dahlquist, Timothy S. Prather, and James J. Stapleton
Weed Science 2007 55:619–625
Soil Solarization and Thermal Death: A Logarithmic Relationship Between Time and Temperature for Four Soilborne Plant Pathogens.
G.S. Pullman, J.E. DeVay and R.H. Garber
American Phytopathological Society, Vol 71, No. 9, 1981 p 959
Temperatures Necessary to Kill Fungi in Wood
USDA Technical Note 259, Forest Products Lab Feb 1956
Safe Procurement and Production Manual A Systems Approach for the Production of Healthy Nursery Stock
Griesbach J., Parke, J.L., Oregon Association of Nurseries, January 2012
https://www.researchgate.net/publication/282649506
Dose Curves of Disinfectants Applied to Plant Production Surfaces to Control Botrytis cinerea
W.E. Copes, Plant Disease-American Phytopathological Society, May 2004
Chemical Disinfectants
https://www.cdc.gov/infectioncontrol/guidelines/disinfection/disinfection-methods/chemical.html
Quaternary Ammonium Compounds
Quaternary ammonium compounds are the most commonly employed broad-spectrum hard surface disinfectants employed in animal research facilities.
From: Laboratory Animal Medicine (Third Edition), 2015
https://www.sciencedirect.com/topics/neuroscience/quaternary-ammonium-compounds
EPA Hard Surface Disinfectants
https://www.education.nh.gov/instruction/school_health/documents/disinfectants.pdf
Ruth