August 2, 2018
Please visit us this Saturday, 10-noon, for a tour of our new watering system. We will have signage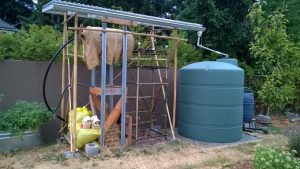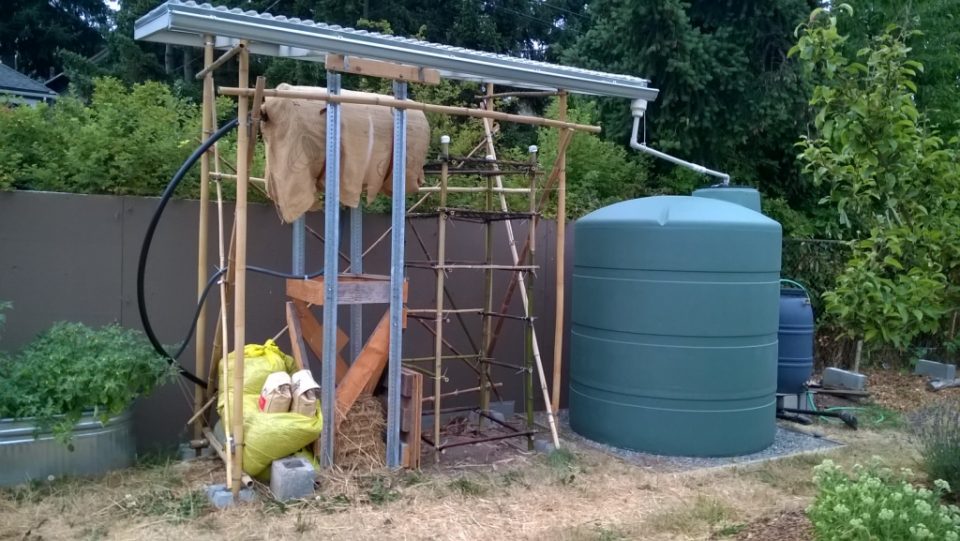 throughout the orchard and we will be anxious to get your ideas about how we can manage water even more efficiently.
Our system begins with our three cisterns, which catch 4,000 gallons during winter rains. Our human-powered treadle pump pushes water into barrels that are five feet above the garden beds. We have three different gravity-fed drip irrigation systems that do the work of spreading the water from the elevated barrels to the plants.
We are also using 1/4″ poly line siphoned from 5-gallon buckets for trees, clay ollas matched with perennial and annual vegetables, perforated pipe (bamboo) for our vertical garden and for edible shrubs.
Sat, Aug 4, 10-12, Open House/ Work Party
Sun, Aug 19, 2-4, Work Party
Sat, Sep 1, 10-noon, Work Party
Sun Sep 9, 10-11, Intro to Qi Gong
Sun, Sep 16, 2-4, Work Party
Come, review our watering log, our water measuring tools, and find out about mistakes we made, needed improvements, and how we managed to keep clam during the two weeks with temperatures near 90 degrees.
Questions we are expecting on Saturday:
● Is rainwater running off the polycarbonate roof better or worse than tap water?
● Would you stand under the water barrels that weigh 400 pounds?
● Which drip irrigation system can best usher water to specific plants?
● Do the drip systems allow for cleaning and storage in winter?
● How does the rate of water discharge through a drip system affect the percolation depth?
● Can perforated pipes be installed subsequent to planting?
● What are the factors that influence how quickly water will seep from the olla?
● Does cistern water contain bacteria and algae and, if so, will it adversely affect plants?
● What's the difference between soil moisture based irrigation and crop demand irrigation (evapotranspiration)?
● Are some crops better at using water than others?
More questions? We will soon have a page on our website dedicated to the details of this project. In the meantime, enjoy the marvelous brochure produced by Dylan and Luke (Spellebee Space) on our Library page – Documents of Interest (under photos).
Stay tuned for a celebration if we make it through the summer without turning on City water. Perhaps a water balloon fight!
Ruth