November 5, 2020
We are excited to introduce Karin Baer, our new intern. Karin is working toward a Urban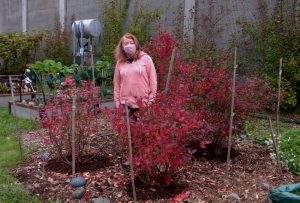 Agriculture Production Certificate within the Horticulture Program at Edmonds College. She began helping in September and will be with us until the end of the term.
Karin worked many years as a nurse practitioner, until 2019, when she retired.
"I knew I wanted some structure after retirement. I have been gardening a long time, and so was drawn to the Edmonds horticulture classes."
Now she can enjoy a deeper understanding of plants, and especially fruit and nut bearing plants. (Karin visited FECO last summer, as a student participant for the summer pruning class, taught by Ingela.)
"Horticulture Internships are not easy to come by," she told me. "It's because of COVID. Free labor sounds great but it's challenging enough for organizations to deal with their regular employees."
Volunteers are needed!
by appointment
please email freewayestatescommunityorchard@gmail.com

During her internship, she has been, or will be, working on pest management, orchard floor management, pruning, micro-climate observations, plant identification, propagation, and planting. She will gain experience in making compost via a thermal process, root pruning, and eventually, winter pruning and compost tea application.
Karin is reliable, alert, helpful, asks good questions and definitely pulls her own weight. She didn't complain once about banding trees against winter moth protection, which involved getting up and down from the ground about 30 times. Then, she noticed we forgot a tree and she offered to go finish the job!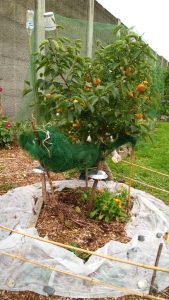 The most important plant skill to have is keen observation and Karin has a good eye. Last week I was spouting off about plant succession, or some such topic, and she stopped me. "Ruth, look at that persimmon." Most of the noted persimmon had been scoured out by a rat. Thank you Karin.
This is the first year the rats have targeted the persimmons so I was taken by surprise. Some netting and upside down pie pans were applied to the tree but, we shall see if the strategy works.
If you volunteer on Thursdays between 11-2 you will meet Karin and you will surely enjoy this plant enthusiast.
Ruth