October 3, 2016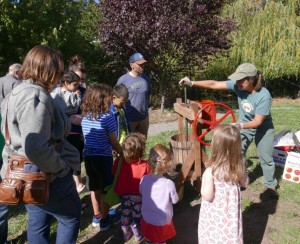 Half way through our 6th annual cider fest I strolled down the path and saw volunteers Jennifer and Liz sitting comfortably on the orchard bench, feet dangling. I realized then that the number and quality of volunteers at this year's Cider Fest were so superb that these two hard workers were able to take a break to soak up the warmth of both the sun and the wonderful visitors.
Grinning greeters garnered four new volunteers and sold every slice of pie. We also sold donated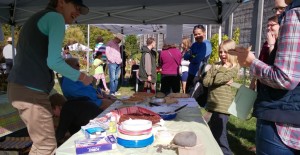 handmade items. We can now replace the maligned garden forks, fix the mattock and purchase a big roll of floating row cover!
We tossed 170 3-ounce cups into the yard waste so we know we had about 140 people stop by.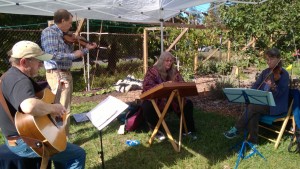 Every year we stress about whether we will have enough apples for the cider-pressing event. This year, however, City Fruit gleaners came through big and dropped off nine boxes of apples for our use. The gardeners at the Good Shepherd Center and at Magnuson orchard were also looking out for us. Hurrah!
Thank you so much to the hard-working crew and all of the generous neighbors and visitors.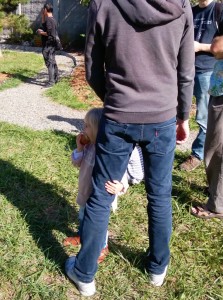 Volunteers:
Ana M, Kate M, Cassie B, Becky C, Nancy H, Liz A, Joan D, Nora L, Jennifer K, Mitch, Laura, Kristin M, Alice E, Nancy M, Ingela W, Max M, Michelle P, Charlie D, Janet S, Sylvia B, Renee J, Mary G, Lynn G, Bob M, John H
Ruth
Sun, Oct 16, 2-4, Work Party
Sun, Nov 20, 2-4, Work Party
Sun, Dec 18, 2-4, Work Party