October 14, 2015
Much of the fruit we grow matured about three weeks early this year. We enjoyed honeyberry,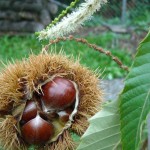 blueberry, raspberry, pears, apples, figs, chestnuts. Yes, chestnuts! This is out first year of fully pollinated chestnuts. (When the female flower was receptive, our Maraval was hand pollinated from a tree about a half mile away.)
The coddling moths must have found greener pastures because our William's Pride and Liberty, the only apple trees with much of a yield this year, were nearly free of bug damage.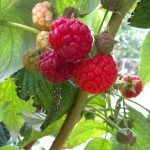 The harvest continued, right through our 5th Annual Cider Fest, due to warm fall temperatures. Raspberries (Heritage everbearing), strawberries (Glooscap), and figs are still ripening.
Congratulations to our outstanding Cider Fest volunteers. Well over 150 people enjoyed our October 4 event. Ingela's cider making took center stage but we also enjoyed live music, hula hooping, beanbag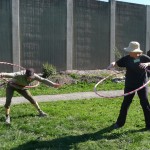 toss, silent auction of beautiful hand made items from Janet S and pies suitable for varied diets.
We could not have a Cider Fest without apple donations. Sue Hartman from Tilth and Barb Burrill from CityFruit picked apples at other locations until their shoulders were sore. We pressed nearly 500 apples.
A special thanks to those who volunteered from beginning to end – Max, Liz, Sue, Ingela, Janet, and Nancy M! We appreciate others who also helped out and/or donated pies – Michele, Nancy H, Melody, Joan, Renee, Jen K, Robert & Teri and Jennifer K.
Visitors complimented us on recent orchard improvements and six new people signed up to volunteer! We welcomed fruit lovers from other parts of town who were participating in CityFruit's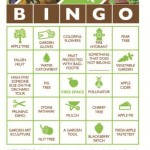 Orchard and Harvest Tour. CityFruit sent out an invitation to the public, inviting all to visit 16 different public orchards. Participants were easily noticed, busily filling in Bingo cards. Players could get 18 of 25 possible search items stamped from our orchard alone! One search item was, "Something that doesn't belong in an orchard". Nancy M helped out the Bingo players by bringing a can of beans.
While most were indulging in warm apple cider, Jen K, a friend of the orchard, was confirming the increasing biodiversity of this 12,500 square foot space. She took a fine photo of a leafcutter bee on a calendula flower. (Note the pollen is carried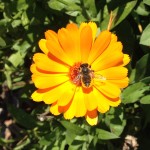 on the belly.)
We are creating even more infrastructure this fall and winder. Let us know if you can help with the new garden beds. We are racing to move dirt into the beds before the weeds take over.
Ruth