January 1, 2016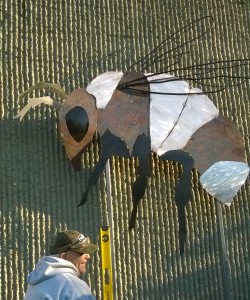 We are pleased to unveil two new art pieces in the orchard, both recently installed and both splendid.
Chris Lemmen of Steel Bamboo is the creator of the floating bumble bee (bombus mixtus). The bee is made of metal. Landscape art is a specialty for Chris. The bee is headed north toward the pollinator pathway!
Sat, Jan 2, 2-4, Work Party
Sun, Jan 17, 2-4, Work Party
Sat, Feb 6, 2-4, Work Party
Sat, Feb 13, 1-3, Pruning Class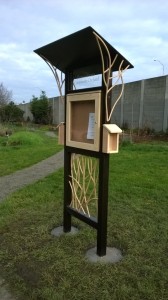 Peter Goetzinger, creator of many public art works, designed the entryway kiosk. It's very functional, with a signboard and two brochure holders. Those who pass by can now readily find orchard brochures and self-guided tour handouts.
Thank you so much to other volunteers who contributed to the success of these two projects:
Jennifer K, Michelle P, Ken Y, Sue H, Nancy H, Nancy M, Jackie C, Liz A, Nora L and Stuart S.
Ruth