June 20, 2016
The morning was hot and getting hotter, so at a recent pollinator workshop (June 4 at 21 Acres) we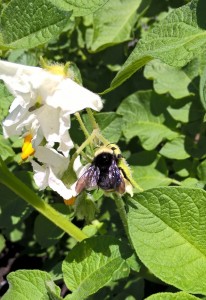 took an early field tour, observing various bees, nest holes for ants (flat) v. bees (ringed by excavation "dust"), and some of the experimental plantings underway. We spent the rest of the day viewing slides and learning about bee identification, ecology and conservation methods.
Much of the information from the Xerces Society and King Conservation District (workshop sponsors) can be scaled to yards and small holdings like Freeway Estates.
Conserving the Bumblebees says, "Bumblebees need three types of habitat . . . plants on which to forage for pollen and nectar, nesting sites, and places to overwinter." (It doesn't mention the presence of water, which surprised me. I later learned that only honeybees need additional water; natives get the moisture they need from foraging.)
Here are some of the other things I learned:
For bees in general, the best environment is a mosaic of "structurally different vegetation";
mowing patterns need to be varied with some unmowed patches remaining. In preparation for adding native pollinator plants, some folks clear weed seeds by burning. These areas should never comprise more than a third of the native-species area, and they need to be adjacent to refuge patches.
Ground-nesting bees need swatches of bare or scarcely vegetated ground.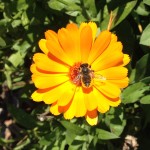 Commercial flower breeding has increased petal complexity and decreased pollen content. Simple, single-flowered and flat-faced forbs feed various bees, which have different lengths of tongue. Heirloom varieties are sturdiest and take the least care. Lots of common, popular garden flowers and trees, however, also offer good nectar sources throughout the seasons.
It was especially rewarding to meet fellow participants and discuss their personal and institutional projects.
Sun, Jul 17, 10-12, Work Party
Tues, Aug 2, 6-8:30, Seattle Night Out Potluck – all welcome
Sat, Aug 20, 10-11, QiGong
Sun, Aug 21, 10-12, Work Party
To find seasonal charts, bee identification and commentary, try:
Conserving Bumble Bees: Guidelines for Creating and Managing Habitat for America's Declining Pollinators, The Xerces Society. This thin 8½" x 11" booklet has excellent analyses, charts, photos and instructions. (It's national in scope, but you can skinny it up by saving just the general pages and those applicable to the Pacific NW.)
Establishing Pollinator Meadows from Seed, the Xerces Society, an 8½"x11", 11-page pamphlet.
Tunnel Nests for Native Bees: Nest Construction and Management, an 8½" x 11", 4-page invertebrate conservation fact sheet, the Xerces Society.
pollinator.org/PDFs/Guides/PacificLowlandrx9FINAL.pdf. This downloadable, 24-page pdf loads quickly and is worth keeping.
Attracting Pollinators to Your Garden Using Native Plants. This 9-page pamphlet, hand-illustrated in double-page-spread format, is from Lolo National Forest (in Montana), U.S. Forest Service. Its scope is national. Download it from www.fs.fed.us/wildflowers/pollinators/documents/attractingpollinatorsV5.pdf.
The Xerces website is comprehensive. Their western regional address is 628 NE Broadway, Ste. 200, Portland OR 97232; phone 855-232-6639; www.xerces.org. The King Conservation District is at 1107 SW Grady Way, Ste. 130, Renton WA 98057; phone 425-282-1900; www.kingcd.org.
Jennifer