October 10, 2013
Our three year old Chestnut Tree pleasantly surprised us this year by popping out 14 burrs! Our Maraval cultivar (Castanea Sativa x Castanea Crenata) boasts some of the most beautiful male flowers of any edible Chestnuts. (See photo)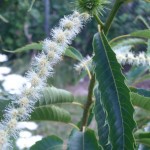 Catkins can hold the flowers of both sexes, with the males in the upper part and female flowers in the lower (monoecious). These 6-8 inch long catkins appeared around the fourth of July and soon after the female flowers (burrs) developed into spiny protective cases called cupules. The burrs will continue to develop until late fall when they will drop from the tree. We paired our Maraval with a Prococe Migoule as two cultivars are needed for cross-pollination.
Sweet Chestnuts do not like clay soil and are susceptible to root rot. As such, how long they will be able to pry their way into our clay soil remains to be seen.
Sun, Oct 13, 2-4 Work Party Sunday.
Bring garden gloves. We take leaves!
Sat, Oct 19, 2-5, Cider Fest
Volunteers needed to help press
Two shifts: 2-3:30, or 3:30-5
Let us know. We take apples!
The American Chestnut was nearly wiped out by the chestnut blight, which began in 1904. Within 40 years nearly four billion trees were wiped out and in 1912 the Plant Quarantine Act was passed to reduce the chances of such a catastrophe in the future. The Chestnut is prized for its rot-resistant timber and fruit. There are strong efforts around the country to repopulate these trees. http://www.apsnet.org/publications/apsnetfeatures/Pages/ChestnutBlightDisease.aspx
Sometime ask Nancy H about her Chestnut story from elementary school in Pennsylvania.
Ruth