Donations
The Orchard is always in need of cash and in-kind donations. We appreciate your support.
Needs we have!
Hover over a need to read the description. Email us if you have an item we might need, instead of just dropping things off at the orchard.
GROW Northwest (formerly the P-Patch Trust) is the fiscal sponsor for Freeway Estates Community Orchard (FECO). GROW is a 501(c)(3) non-profit organization and it controls and supervises our income and expenses. By clicking this link, Click HERE to donate online, you will go to the GROW account within Network For Good. (If you give regularly, Network for Good offers tracking and history, allowing you to easily make a series of donations in one sitting and at one website.)
Please go to the "Designation (Optional)" section where there will be a box to enter "Freeway Estates". GROW is the fiscal sponsor for many gardens, so it's important that you designate your donation to our account. Here is what the designation area looks like: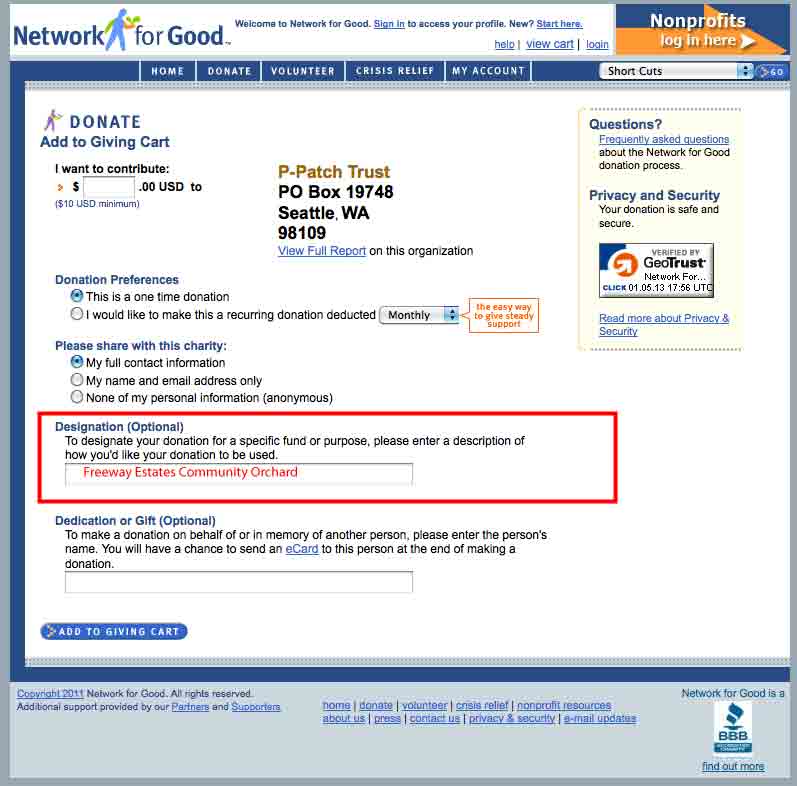 The federal ID number of GROW is 91-1091819, and your donations are tax deductible to the extent allowed by law. You will get a receipt for your contribution. If your donation is $250 or more, you will also receive an email receipt from Network for Good and a separate letter from GROW. (If you would like more information about the GROW website click here.)
If you would rather donate by check, please send your check, made payable to Freeway Estates Community Orchard, to:
Freeway Estates Community Orchard
c/o 608 NE 63rd St
Seattle, WA 98115
Make sure to include both your postal and email addresses so that we can acknowledge your donation and send you a receipt.