August 9, 2013
Here she is, our first apple. Gorgeous. Our two-year old Williams' Pride produced 14 apples. This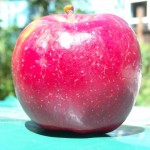 apple is highly thought of for good flavor – especially for an early ripening apple – and its ability to remain crisp and delicious for at least six weeks after harvest. William's Pride was developed by PRI (Purdue, Rutgers, Illinois Co Op) in 1987 and is mainly used for fresh eating. It is resistant to apple scab and somewhat resistant to other apple diseases. (see WSU Fruit Tree Growing Guide in the Library.)
Work Party this Sunday August 10, 2-4 pm. Please bring newspapers and a sidewalk edger if you have one.
Also have some Pride in the successful Seattle Night Out at the Orchard Tuesday evening. Neighbors added their street
name to their name tag so they could quickly identify their nearest neighbors. Over 50 youth and adults stopped by, including families from NE 59th, NE 60th, 4th Ave NE and 5th Ave NE, in addition to our 6th Ave NE neighbors. The food was fantastic and zucchini was the theme. Melody swore there was zucchini in the brownies but the taste of chocolate clearly won out.
And, drum roll, take some Pride in the culmination of well over one hundred volunteer hours. The day has arrived! Our upcoming Public Design Meeting will be Sunday August 18, from 2-4pm. Here is the chance for the neighborhood to meet and offer design input to our Landscape Architect and Permaculture expert. There are door prizes and food and children's activities. Build up your creativity this week and let it explode during this fun event. Please join us!
Ruth