February 14, 2017
Thanks to the efforts of City Fruit, we have a paid intern to review our stewardship of our fruit and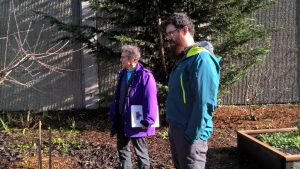 nut plants. Chris Waldref (see photo) will critique our orchard management plan and ensure that we follow it (see plan documents in the Library Page).
Chris was born and raised in Seattle. After studying Environmental Science at the University of San Francisco and then living for a short period in Spokane, he is glad to be back in his home town. He worked with City Fruit last year as a Pest Prevention Steward and Harvester and is very excited about his new role as Freeway Estates Community Orchard Advisor. He is eager to help with orchard plan development and assessment. Chris is interested in urban ecology and enjoys spending time in our city parks and green spaces.
Sat, Feb 18, 1-3, Pruning Class
Sun, Feb 19, 2-4, Work Party
Sun, Mar 19, 2-4, Work Party
Chris will visit at various times throughout the year, making observations and gathering valuable data. I know our volunteers are looking forward to having an outsider take a fresh look at our methods.
Ruth